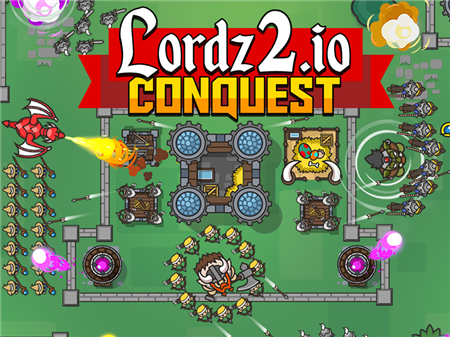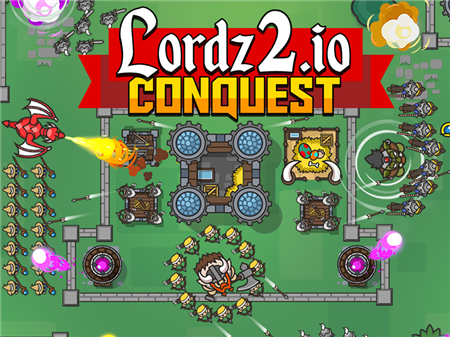 Do you love the spirit of medieval rivalry and knightly wars? Then you are at! Lordz2.io is one of the most popular games of this genre and such high popularity is due to the successful combination of thoughtful gameplay and user involvement in the game.
Your long journey begins with one hero and a small group of warriors who are your guard. However, a simple retinue in these harsh forests is not enough and you will have to hire a real and full-fledged army that will be able to fight back any opponents.
From the very beginning, the game will unobtrusively push you to collect resources and this is the best option for the right start. Before you start traveling on the map and start looking for adventure, provide yourself with a well-protected base. A properly organized defense is capable of not only reliably protecting the castle but also allows you not to worry about the state of your possessions while you are encroaching on strangers.
Each construction requires certain costs and time for construction, so correctly evaluate the construction process and calculate the planned costs. In any case, take the development of the base as an indispensable aspect of the game, and the sooner you start arranging your defensive redoubts, the easier it will be for you to play later.
Despite the fact that you control a brave hero, it will be incredibly difficult for him alone in battles. Surround yourself with a huge number of brave warriors, each of which, by the first order, will attack everything around. If you meet an enemy army, then their goal will be to kill your character, and it is extremely difficult to do when you are surrounded by dense ranks of a loyal army. Over the course of the game, the type of troops being hired improves and you will have the opportunity to recruit real monsters who, by their very appearance, will inspire fear in enemies.
Maintaining a large army will require housing for your warriors. Therefore, do not forget to build new homes. And so that these dwellings are not destroyed - think over the defensive plan of your city. It all comes down to the ability to balance between attacking and defensive potentials and when you find this golden mean, you will become the real king of the world.
How to play?
The main character control is put to the organs of the mouse. The attack is carried out by clicking the left mouse button.