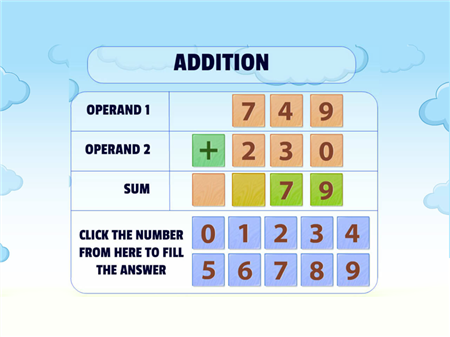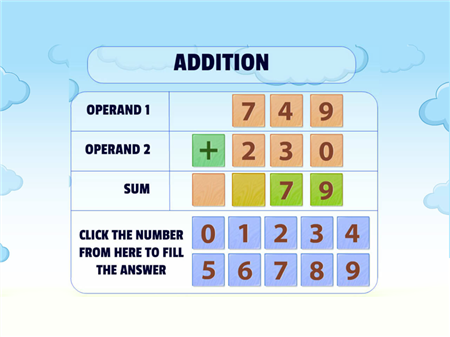 The presented game is one of the most interesting, in-demand, and exciting educational puzzle games in the genre. The beauty of the project is that the game is great for both kids and adults. At the same time, it should be recognized that Addition Practice is more suitable for a children's audience and was originally developed as an educational project aimed at expressly teaching a child a quick addition procedure. If you consider yourself to be one of those people who believe that the gaming industry and the educational program should coexist, then Addition Practice is worth your close study.
Your task in the game is reduced to a simple addition procedure. In this case, you will have to indicate the required value in the amount field. If you make a mistake, the system will remember this and ultimately give you full statistics on your gaming session. The project will calculate how many sums you solved and how often you made mistakes. Improve your additional skills and perfect your results. Numerous studies confirm the effectiveness and functionality of this method of teaching simple mathematics, and many educational institutions for children recommend including games of this format in the educational program.
How to play?
All controls in the game are integrated into the graphical interface and are controlled using the mouse. Direct the mouse cursor to the required answer option and click on it with the left mouse button to activate it. It is important to remember that in the game the values are not written from left to right, as is customary in everyday life, but the numbers are placed in the highlighted window. You will need to search for the total number from the two higher ones. In this way, the child will quickly learn the column addition method.