Santa Resurrection Emergency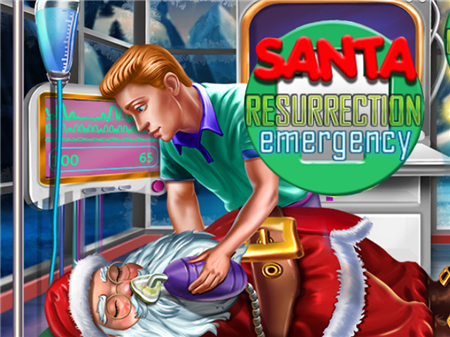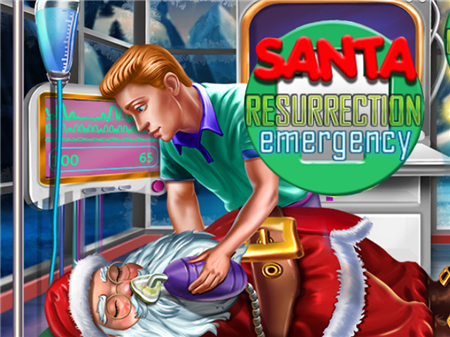 Santa Resurrection Emergency
Santa Resurrection Emergency is perhaps the most unusual game of all that you have ever encountered. You will have to save the life of Santa, who is in trouble. But is it worth saying that the very spirit of Christmas will disappear if something happens to Santa? Your task is to quickly and efficiently provide first aid to Santa and have him back on his feet. And yes - you will be controlling a highly qualified doctor who is ready to help at the first call. Are you ready to take that responsibility and help poor Santa? Then let's get started!
You are in the hospital room where Santa lies on the bed. His pulse isn't palpable and first of all, you need to deal with this problem. First, let's try all the traditional and painless procedures that can help get his heart beating again.
We are talking about heart massage and mechanical ventilation. Make several attempts to correctly and quickly carry out all the procedures in order to awake Santa. Then try to combine both ventilation and massage. However, if the situation does not normalize, then go to plan "B", which will certainly help you correct the grave state of affairs.
The next step in saving Santa will be defibrillation. Prepare the equipment for operation, lubricate, and charge it. Before shocking Santa, make sure everything is ready and get started. Perhaps the reaction will not follow after the first attempt. Try it until you can help our grandfather. In the end, Santa will certainly be able to get out and open his eyes. And when that happens, you will definitely breathe a sigh of relief.
After Santa regains consciousness, you can relax a bit and calmly prescribe a good Christmas prankster an appropriate course of treatment. Prescribe medication, carefully monitor the dose taken and give the patient a little time to fully recover. Soon, you will enjoy the sonorous "Ho, Ho, Ho" when Santa will present desired gifts to all the obedient children of the planet.
How to play?
Game control is integrated into the graphical interface and is regulated by the main mouse controls. You have an opportunity to interact with certain items on the screen. The system will point you to one or another object and show you exactly how you need to interact with it.