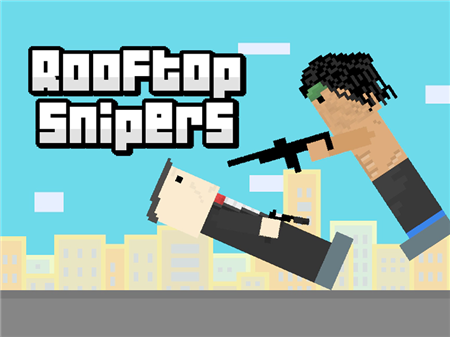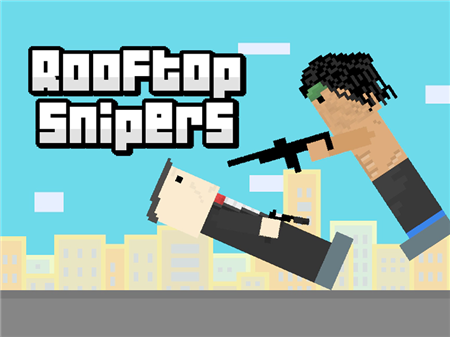 Many users would call this game senseless and merciless, but it has a considerable share of meaning and a huge amount of fun. Get ready to plunge into the atmosphere of the good old game "King of the Hill", in which you have to drop various types of weapons from the opponent's roof. It looks no less fun than it sounds. Roll up your sleeves, pick up weapons, and start dominating your roof!
The essence of the game is reduced to a banal shootout, as a result of which one of the rivals invariably falls from the roof, and the second remains to look at the result of his superiority from above. You are given several rounds to more accurately determine the winner in the confrontation.
During the shootout, only two functions are available to you - jump and shot. However, it is worth remembering that the easiest way to fall off the roof is to catch the bullet in the jump. While you are in the air, you are extremely unstable, and losing your balance will be much easier than staying on the desired flight path. In this case, the most unpleasant factor in the whole story is the lack of the ability to aim at the enemy. The shot is fired in a random line and the only way to conduct at least some aimed fire is by jumping, during which the character can hold the gun directly in front of him.
But with a high degree of probability, the main reason for the constant falls will be not the opponents, but you yourself. Since the game has a huge number of different factors, each of which affects your precarious position in space and you will fall. In this case, you will never be able to fully understand the mechanics of the game and the physics of the movement of the character. Sometimes it resembles perfect chaos, which is impossible to understand. And any hit on you only exacerbates the situation and now you are flying on the pavement, earning points for the enemy.
You can confront a computer opponent, or you can invite a friend to the computer and arrange firefights with him. Now you do not have to complain about the "freebie" from the computer. You will be convinced that the main reason for the defeat is not someone's dishonest game at all, but the banal complexity and unpredictability of game control.
How to play?
The main control buttons are "W" (jump) and "E" (shot). For the second player, these buttons are "I" and "O", respectively.