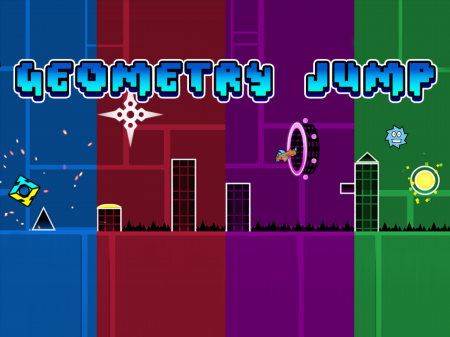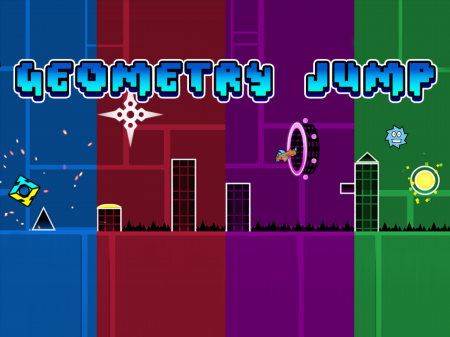 If you adore games in which you need to show the best qualities in reaction or speed of decision-making, then Geometry Jump will be a great way to briefly escape from everyday worries. One of the most popular projects is presented to your attention, which both ordinary gamers and specialized publications covering news from the world of gaming, including browser games, enjoy.
Before us is a moving square that can jump and seeks to reach the final destination of its level as quickly as possible. All would be fine if it were not for the numerous obstacles that stand in the way to the finish line and each contact with such components can seriously harm your main character.
Thus, you have no choice but to jump over the ill-fated barriers in order to achieve your goal. But it is extremely important to remember that some obstacles cannot be touched, and some allow you to use yourself as a point for a jump. In order to understand which obstacles you can use and which ones should be avoided, just remember the simple rule - a block with a flat surface allows you to touch yourself from above, but a block with sharp edges will instantly kill your character.
Moreover, every first attempt at the level allows your square to move at a very reasonable speed. But subsequent attempts will accelerate your character, which will make the procedure of passing the level unbearably difficult. It's one thing when you have enough time at your disposal to make a decision and prepare for the jump, and quite another when everything happens at lightning speed and you don't even have time to react to the appearance of the next block on your way.
Carefully consider the track ahead and learn to plan all the jumps in advance. Often levels will give you difficulty in the form of several consecutively lying blocks that need to be jumped over. And this procedure must be approached with maximum responsibility and attention. Once you hesitate for a split second, you already start the game all over again.
How to play?
Game control is fully integrated into the graphical interface of the game. Interaction with any objects is carried out by clicking the left mouse button. By the way — the jump is carried out by clicking the left mouse button. The action is fast and you have to get used to the mechanics of the main character's behavior.