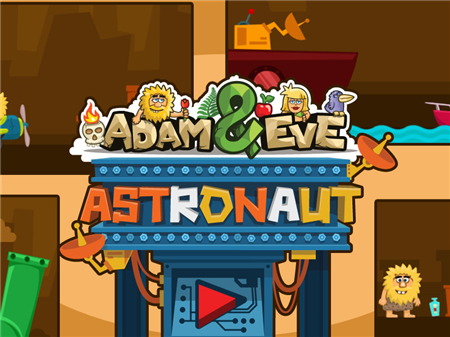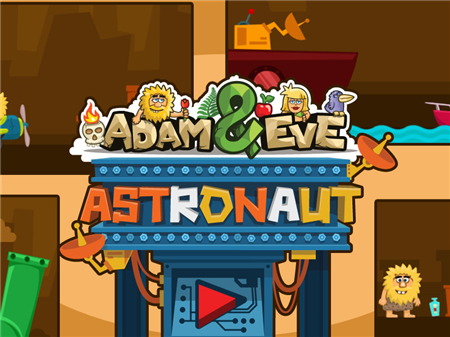 It's another popular Adam and eve astronaut game, which passed the traditional numbering system and took its place in the list of the most successful games in the series. This time you are waiting for a completely amazing and unusual place where the game threw Adam. The fact is that you have to conquer space and even though you are a primitive character, you somehow miraculously climbed into the distant future and now you need to fly away from the planet. Perhaps among the stars, Adam will be able to find a portal to the past and return home to Eve. However, everything is not as simple as it might seem at first glance and you will find difficulties of a particular kind.
Among the main difficulties, it is worth noting that you need to find a rocket engine that will lift you into space, and for this, Adam will have to run through a large number of various obstacles and difficulties.
As in all previous games in the series, any successful outcome of the game will directly depend on your decisions and the sequence of your actions. For example - if you need to overcome a level at which you simply do not see a way out, then perhaps the only way out is to escape by plane? And in order to soar into the air, you will need to find the keys to the aircraft. And at the next level, you will need to move from one location to another driving a car, which you will also have to refuel. You need to understand that for this Adam will need to find the appropriate locations that will allow him to do this.
The game allows you to interact with any items but requires a special taxonomy. You cannot activate one or another character (or item) until you fulfill the special requirements for other items. For example, if you need to shoot a weapon at a specific target, then first you need to find ammunition for that weapon, then charge it and only then fire a shot, taking a good aim.
In other words, it will not be too easy for you, but you can't call an overly complex game. Yes, in Adam and eve astronaut complexity will gradually increase, but this adds an element of excitement, for which people love a series of games about their favorite characters. Get the engine, soar up, and find the way home, because your character was waiting for your beloved there.
How to play?
Game control is fully integrated into the graphical interface of the game, which allows you to interact with any objects via the usual mouse controls. Click on any active element and have a useful action.