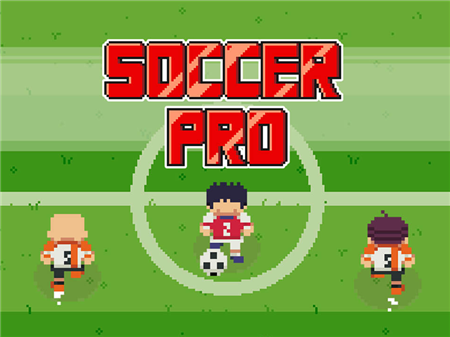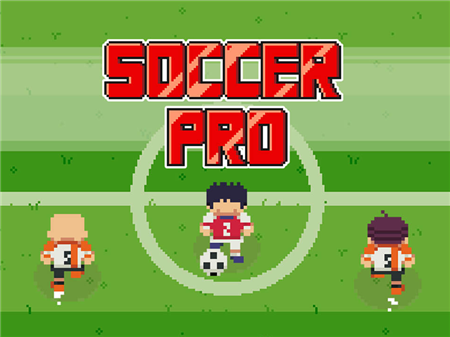 Soccer Pro is a unique project that gathered together lovers of logical, arcade, and sports games. No wonder philosophers have argued that the ingenious is always simple. The presented game clearly demonstrates the veracity of this phrase, as here you have the opportunity to train your reaction skills, replay opponents, and all this takes place on a wonderful football field. What could be better?!
The process itself is not complicated. You control a soccer striker, whose task is to pass through the entire field. It is worth remembering that you will be opposed by opponents who will be happy to take advantage of every mistake. Each delay will cost you everything, so try as quickly and efficiently as possible to dodge the defenders who will attack you without any regret.
If you hesitate at least for a second, then with a high degree of probability you will be knocked down and you will lose all the passed game progress. Only one opponent is enough for you to have problems, and when there are several of these opponents, you will have to try hard not to fall under their feet.
The dodge procedure itself is done using the mouse cursor. You need to indicate the direction where there is currently no defender and where he will not be with a high degree of probability. Since you control a professional athlete who does not know fatigue, you can almost instantly move the player to any part of the field, which will allow you to change your position with lightning speed and avoid any attacks.
There are absolutely no rules and penalties in the game, as in football. All you need to do is simply avoid direct contact with opponents and score goals. If you managed to go through a defensive redoubt and reach the gate, then you begin the next level, at which new rivals are waiting for you. It is worth noting that their skills and number will grow steadily, so the complexity of the game will systematically increase. However, this fact is the best about Soccer Pro. If the game was linear, it would quickly bore you. Try to play with different famous football players, which you can choose in the store.
How to play?
Game control is made by the main organs of the mouse. By holding the left button you can move the player to the desired area of the field. The direction of movement is indicated by the current position of the mouse cursor.