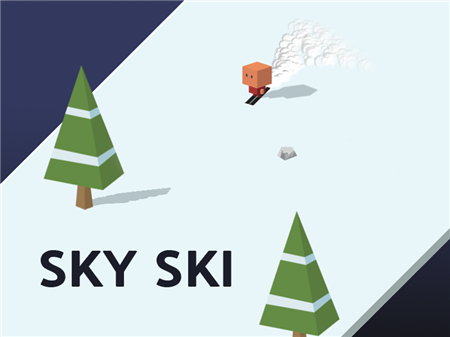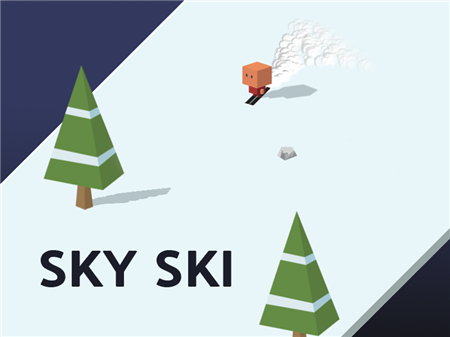 Sky Ski is an ideal choice for that category of users who love outdoor activities, skiing, and arcade games. Here is a popular and incredibly dynamic project that has earned the attention of a large number of users around the world. For this reason, the game has become so popular among users and has collected a large number of positive reviews that add to the project's interest.
The game will allow you to plunge into the winter atmosphere and give you a competitive element that will make you compete with friends and acquaintances. Show the best result and make others try to exceed your distance. All this, as well as much more in a new project from a well-known developer of mobile and browser games!
You have to control an impromptu skier, whose goal is to descend to the high-speed ski track. Among the many adventures that you may encounter on the descent are trees, stones, and other obstacles. Is it worth explaining that you are better off avoiding these troubles and move the maximum clear and error-free way?
The game does not provide a system of points of life, which would allow forgiving part of the mistakes on the track. Everything is much simpler and more trivial here - if you made a mistake, then you finished the game. Without any exceptions or concessions for anyone. It is for this reason that each new descent is fraught with a danger of breaking into a tree and that is why overcoming each pebble is accompanied by increased responsibility for the player.
However, in addition to natural barriers on the track, you can find numerous gold coins that are part of the economic model of the game. Collecting this currency you can visit the store and buy new cosmetic improvements for your hero. However, along with the change in appearance, the new skins allow you to walk the track much more efficiently. Some purchased characters overcome the track much faster along the perimeter, others allow you to pass the main distance faster, and others ... And, however, we will not spoil the surprise and allow you to gradually enjoy each of the purchased characters in the game.
How to play?
The control of your character is regulated by the main navigation buttons. The left and right arrows indicate the direction of travel. Movement speed and maneuverability depends solely on the character chosen and your reaction.