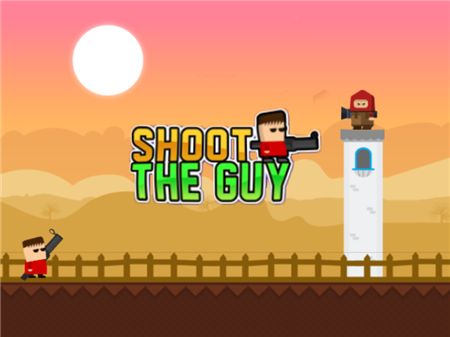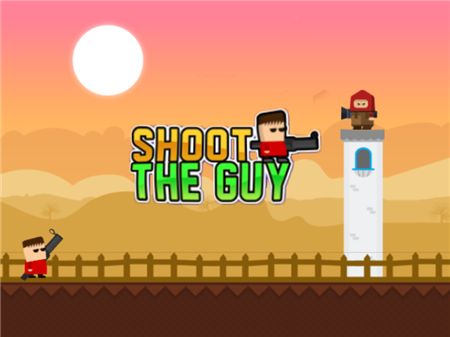 If you've been looking for a high-quality, fun, and incredibly addicting casual game for a long time, then Shoot The Guy will be exactly the project that will captivate you for long hours of active gaming. The project did not become something unique, repeating the mechanics of a huge number of related games, created similarly. However, a special spirit is introduced into Shoot The Guy, which pleasantly pleases with its atmosphere and captivates with a simple and ridiculously ridiculous plot.
You play as a shooter who must hit other arrows. The essence of the game boils down to the simple aiming of the gun and timely shooting at the target. You will always have the right to fire the first shot, but no one said that this shot would be extremely easy.
The biggest challenge in the game is the guidance procedure. When you press the button, your shooter begins to aim the weapon in the direction of the enemy. It is important to correctly calculate the trajectory of the future shot so that you hit the target. It is very easy to miss here, hitting above or below a certain level. It is important to remember that if you miss, your opponent will shoot at you and he will not miss. So try not to make mistakes, because one wrong move and you will lose.
At each new level, the system will offer you to destroy a certain number of opponents. If you never miss and successfully complete the task, then you will move to a new level, where tasks will be more difficult, and there will be many more opponents.
How to play?
Aiming is done in an extremely simple way: when you first click on the left mouse button, the weapon rises, when the height for the desired trajectory is reached - click on the mouse button again. Then a shot will occur. If you calculate everything correctly, then your opponent will be defeated, and the main character moves on to the next goal.