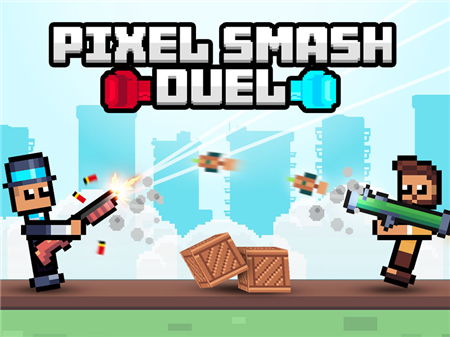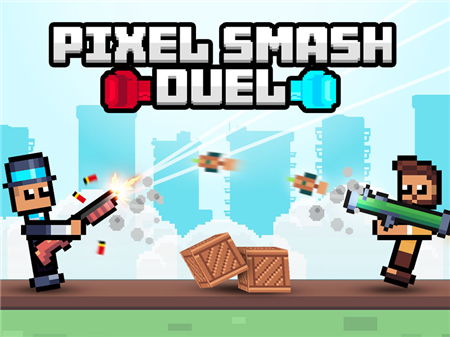 Since the popularization of flash games on mobile and browser platforms, many different genres have appeared, each of which contains a huge number of projects. The presented game is a bright representative of one of the most unpretentious genres, where the game is played not due to strategic planning or good knowledge of the mechanics of the gameplay, but by real luck and a button pressed in time. The project received a lot of interest due to the fun atmosphere and good reviews. This is the case when you can really take your mind off everyday worries and get carried away with Pixel Smash Duel for a long time.
Before you is a playing field on which there are two characters. The location is a space-limited platform from which you cannot fall, otherwise, the round will be considered lost. One of the characters is controlled by you personally, and the second is controlled by a computer opponent. Both characters can shoot at each other, however, the shooting does not cause any damage or wounds, but moves them from their place. The task is to make the enemy character move to the edge of the screen and fall into the abyss.
The difficulty lies in the fact that your character moves along a strange trajectory that is extremely difficult to predict. All you can do is completely randomly press two buttons that will allow the character to move forward or backward and shoot. Everything else is a matter of chance, but someone will say that success does not depend on "holy randomness", but on the player's skills. Check it out for yourself and share your success with your friends.
How to play?
The game is controlled via two main buttons - W and S. Shooting is activated by pressing the E button.