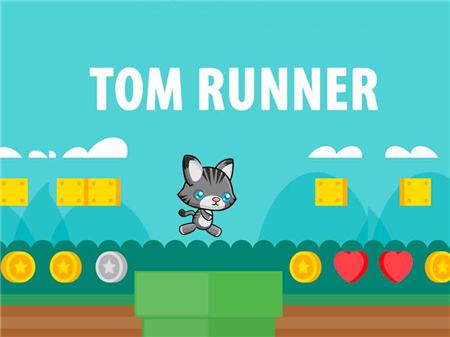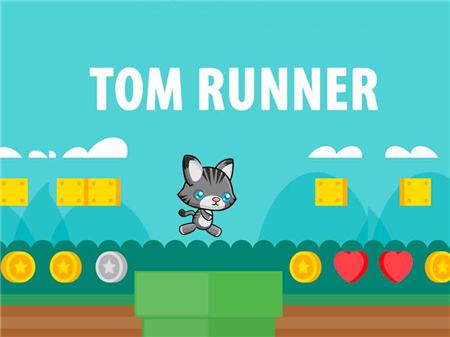 Among a large number of games where the main characters run somewhere and collect some resources, Tom Runner has a special place in the hearts of gamers. The game is in high demand not because of an interesting storyline or special mechanics. On the contrary - the game takes its extreme simplicity and non-triviality. This is the very rare case when the developers really guessed it did not complicate the project and unexpectedly released a real bestseller, which is incredibly successful.
The game combines the complexities of arcade games where you need to overcome distances and numerous difficulties with a running simulator. In other words, Tom-runner is the very project that every user should try at least once in his life. You will either spend a couple of minutes of your attention on a game that you don't really like, or you will find a new hobby for yourself for a long period.
At your disposal is a cat named Tom, who must run as long as possible through a level full of difficulties. First of all, it is worth remembering that in the game all-natural barriers are very predictable and do not require any separate familiarization. Each player knows perfectly well that if you fall into the lava, he will die. If you step on the spikes - he will die. If you touch the saw, it will die. This is just a shortlist of the very surprises that will await you in the game.
But this immediately raises a completely logical question - how to avoid numerous problems in the game? We'll answer right away - all of the above components that can take away your life stock cannot be destroyed. You can't interact with them at all. The only thing that can be done with them is to jump and rush on.
Speaking of jumping - in fact, this is the only way to overcome distances and barriers. The game does not provide any additional navigation options. Your cat can jump and has a special double jump function, which allows you to jump higher than usual if you click on the jump again during the jump. Moreover, this function works only once within a single jump. Unfortunately, you cannot make a series of bouncing in the air!
How to play?
The jump is carried out by clicking on the left mouse button. Any interactions with menu items or additional functions are regulated via the main mouse controls and are rendered in the game graphical interface.