Princesses Funfair Adventure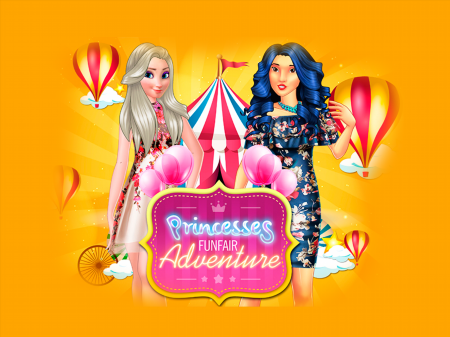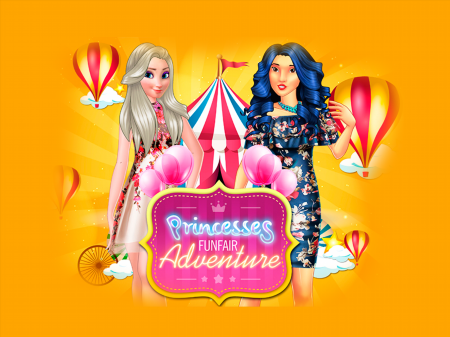 Princesses Funfair Adventure
Do you like fairs with different attractions? Sure thing! Who does not love them? Go there with a friend in search of adventure and to have a nice time. Enjoy the excellent mood and beautiful weather and your day will be truly unforgettable.
Your girlfriend and you are discussing the opening of a large carnival that has opened in your city. Together, you decide to attend a noisy event. But before you go out into the world you have to go shopping. This is what so many fashionistas around the world love so much. Join your friend in a difficult but fascinating choice of clothes that will set you apart from the gray crowd of the same type.
Shopping begins with a sophisticated selection of outfits. You can choose a completely different style of clothing for both yourself and your best friend. One of the heroines prefers a delicate and sophisticated style of clothing, and the second one adores to dress more elegantly. You can follow their preferences and assemble a wardrobe according to the taste of the princesses, or you can try on a completely new style for the girls, which will be better than you could dream of. Be that as it may — do not rush anywhere. Choose outfits thoughtfully and try completely different combinations of clothes. Nothing limits you at all. Show your imagination at full power and surprise everyone with a unique style.
After you dress both friends — go to the fair itself, which will delight you with a huge number of different attractions. Near one of them, you will find a shop with soft toys and a nice young man who sells them. You will be offered to choose two toys, each of which is truly unique.
One of the friends will prefer a stylish and sophisticated toy, and the second will want something soft, cute, and fluffy. Choosing the wrong toys will warn you about the wrong choice. Leaving the fair, you will not only take cute toys with you but also the heart of an unhappy lover who will look after his friends for a long time. Choose objects correctly, thoughtfully, and enjoy the bright colors of all your beloved Princesses Funfair Adventure.
How to play?
Game control is fully rendered on a graphical interface with which you can interact with the main organs of the mouse. Change clothes or choose plush toys by clicking on the appropriate buttons. The control is simple and adaptively clear.