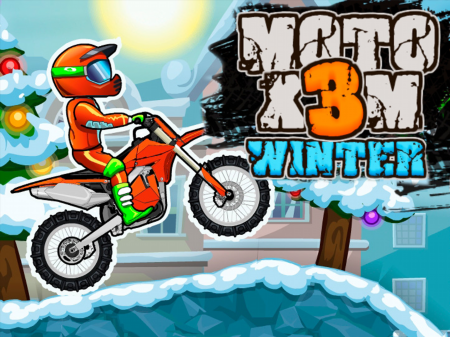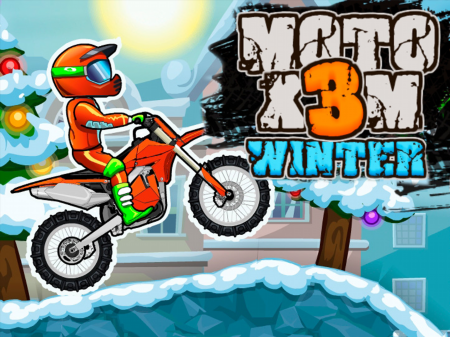 This game will allow you to plunge into the limitless atmosphere of motorcycle racing, which is associated not only with a lot of risks, adrenaline, and dizzying figures but also crazy excitement. Will you be able to pass the track in time and get to the finish line as efficiently as possible? Challenge the overall standings and discover the potential for a career as a great racer.
You drive a cross-country motorcycle that can ride on any axis, fly in any position, and sometimes perform figures of incredible complexity. The capabilities of your motorcycles come solely down your skills and reaction.
Each new level is filled with a large number of complex sections on the track that do not tolerate direct forcing. Somewhere you have to avoid traps, in other places, you will be forced to fly at full speed to a certain place. In other words, Moto X3M 4: Winter is a story about dynamics, constantly changing conditions, and an endless number of tests.
Each new level is completely unique and does not repeat. Your goal is to get to the finish line in a minimum amount of time and with a minimum number of accidents. To lose, it is enough to land not on wheels, or at least one wheel. If you touch at least a small part of the land rider or any other object, then you have to start from the last control point. But what's the most annoying — such unpredictable falls significantly affect your level of points.
For the record, you need to ride exclusively on the designated sections of the route. If you find yourself being the wheels on thorns, ponds, dynamites, or other undesirable components, then you explode. If you make some extra movement, then you explode. If you want to earn extra points by making an extra turn in the air, but miscalculating — you explode. In other words, no matter what you do wrong, you already understand what will happen?
How to play?
Driving a motorcycle is very specific and requires some skill. Acceleration is carried out by holding button A. Brake — S. Buttons A and D are responsible for shifting the balance in favor of the rear or front wheel. This is extremely important, given the specifics of landing a motorcycle in different positions or the need to fly through obstacles in a certain position. By the way - it's better to break various obstacles standing on the rear wheel.