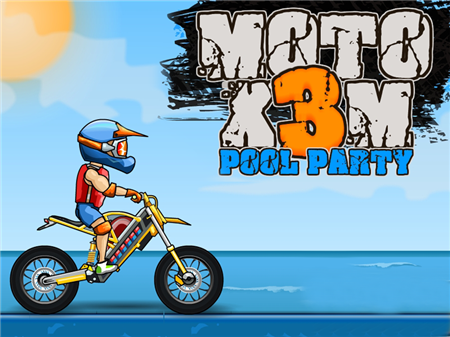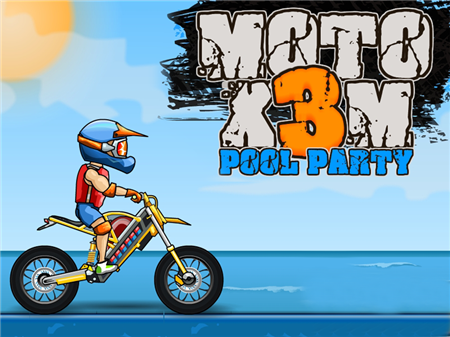 A great way to kill a motorcycle rider several times in one round. Moto X3M: Pool Party is a fun, dynamic, and very exciting game where you have to control a completely fearless pilot of a two-wheeled cross beast that can do stunts of a dizzying level. The game scored high points in a survey of specialized publications and became one of the most visited in the world. Try your hand at the wheel of incredibly wild vehicles!
The main goal of the game is to systematically go through a large number of levels. Time after time, the tasks will become more complicated, and the resulting traps will become more and more sophisticated. If at the initial stages all your attention will be focused on beautiful views and the ability to make some kind of cool jump for your pleasure, then later you will not be at all interested in the views, and you will need to do the jumps for your own survival, and not because it's fun.
Each new level will not only be more difficult, it will introduce new types of obstacles and difficulties that you have not encountered before. This will force you to crash over and over again. However, the mechanics of the game allows you to resume the race at the save point, which you can find at each level quite often. Among the many difficulties, you will find ordinary (solid) bodies that can crash into the rider's head, explode or cause other types of damage, as well as intangible factors, such as strong air currents.
And this is not all the tests that you will have to face as you progress through the game. Somewhere you will get acquainted with obstacles that are not at all amenable to any explanation and you will have to drive through such elements simply by memorizing the route.
You will have to seriously try to complete all the levels and show the class in this difficult matter. However, passing each of the levels is worth the pleasure that the game gives each rider. Enjoy the dynamics and vibrant colors of the Moto X3M: Pool Party and become a true legend.
How to play?
The control of the motorcycle is regulated by the navigation buttons, where the up arrow increases speed, and down - activates the brake. The left and right arrows indicate the specific axis in favor of which the motorcycle tilts. This is an extremely important control feature since in some cases a motorcycle can only travel in a special position.