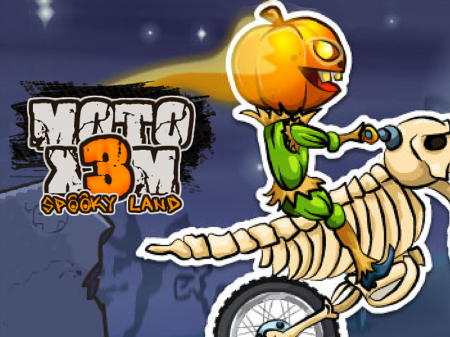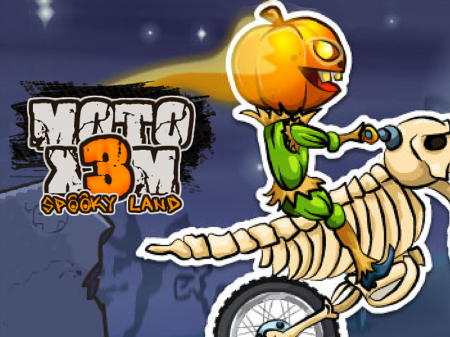 It's a great example of what all modern races that focus on the passage of obstacles in single-player mode should be. Despite the complexity of the description, the game is very simple and does not require any special preparation. Many users from the first attempts go through an impressive number of levels with virtually no errors. And this is the beauty of Moto X3M: Spooky Land. The game is friendly to new gamers and does not require any super knowledge.
But no one said that if the gameplay is so simple, then the very procedure of the game will be uninteresting. On the contrary, the developers came up with a system through which the complexity of the game will gradually increase as it progresses. With each new location, you will encounter new traps and unprecedented jumps. So be patient and get ready to conquer new heights.
At your disposal is a biker riding a specially prepared motorcycle. The game aims to complete the levels as quickly and efficiently as possible. The initial locations are not oversaturated with a lot of difficulties and allow you to fully enjoy the features of the management of a racing motorcycle. However, a little later you will encounter these tests, which will force you to pass a certain section of the route again and again.
By the way, if you break, some kind of load crushes you, you drown, explode, or something else happens to you, then you can go through the same segment of the game path starting from the last control point. Each similar point is marked by a traffic light. And if you drove past one of them, then you know where you will start, in case of another failure.
And yes, we deliberately said about another failure, because you will break often, if not constantly. And this is not at all because the racer of you is so-so. And because the game will throw you completely unexpected difficulties, which not everyone can handle just like that.
How to play?
The basics of control are put to the navigation buttons, where the up arrow adjusts the acceleration function and the down arrow controls the deceleration. In this case, the side arrows adjust the tilt of the motorcycle in favor of one of the axles. If you hold down the left button, then your equipment will stand on the rear wheel, and if on the right, then on the front, respectively. However, be vigilant - if at the same time your rider falls, then you will crash, without any exceptions.