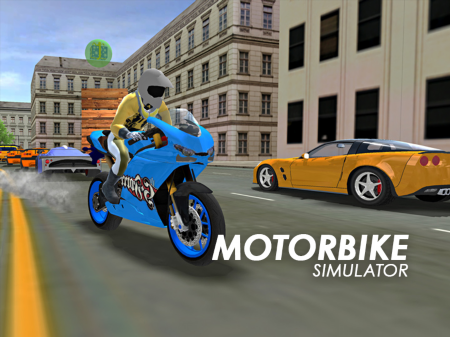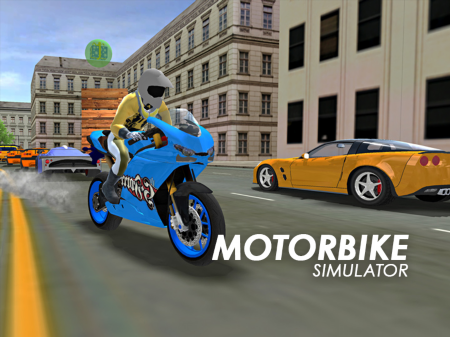 Motorbike Simulator will allow you to ride with impunity on your favorite two-wheeled vehicle, which is capable of performing complex shapes. Enjoy high speeds and an excellent level of capabilities. Here you are free to do what you want, how you want, and how much you want. After all, this is a simulator without any rules and restrictions.
Motorbike Simulator is an excellent training tool for driving motorcycles. You have a choice of three types of motorcycles. Each of the types is similar to the others but can fulfill its own set of options and capabilities. This is a great way to try yourself as a rider in all possible motorcycle classes.
Love to pick up crazy speeds while riding? Want to feel the incredible dynamics? Try this class of motorcycle that will give you an unforgettable experience. Accelerate to incredible speeds, try jumping on-ramps, and perform breathtaking stunts on your super fast motorcycle. Do you want to fully feel yourself in the role of a real racer? Change the camera view to the steering wheel and enjoy the amazing first-person dynamics.
The speed is an excellent solution, but sometimes you want to climb impassable peaks and go down from there in full steam. Cross-moto will give you excellent handling on any ramp, obstacle, and obstacle course. For each type of motorcycle in the game, there is an optimal type of map. However, the "cross" does not care where to jump and what heights to ride.
Admit it, you have always been wondering how the police motorcycles behave. Now you have a great opportunity to feel yourself in the role of the pursuer of violators. For a better atmosphere, turn on the sirens and rush to where your eyes look. Before you are vast expanses and a complete absence of consequences. You can fall and crash an unlimited number of times because as we said Motorbike Simulator is a simulator where there are no rules and reasons to be afraid of the consequences.
How to play?
Game control is carried out by ASDW buttons. Acceleration (Nitro) is activated by the Left Shift button. The camera mode is changed using the C button, and the restoration of the fallen motorcycle with the G button. And yes, if you decide to drive a police motorcycle, be sure to press the E button, it activates the siren and beacons.