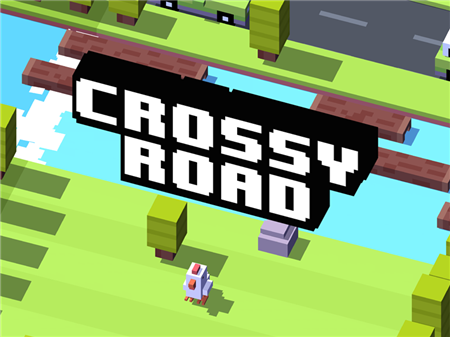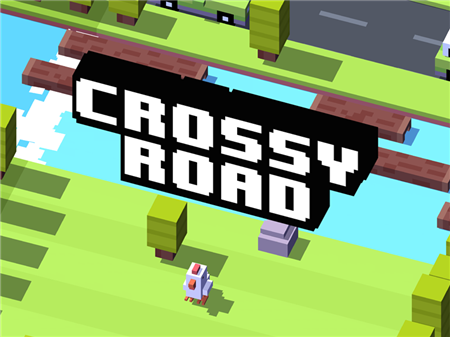 This is a great example of how to create high-quality games that are based on logical actions and speed of decision-making. Crossy Road is very popular, as has already received a large number of positive reviews from gamers and specialized publications. In addition, the game received several awards and became one of the most visited in the current season. Try it and you will infiltrate the world of animal complexity in the era of dinosaurs.
You control a character who urgently needs to get to the other end of a huge meadow. As luck would have it, the short path runs through busy highways along which large animals and predators run. Once you fall under their paws and you're dead. This is equivalent to falling under the wheels of a huge wagon that rushes at full speed.
Your task is to cope with a large number of obstacles as carefully and as quickly as possible and slip along the track past running animals. It is worth remembering that most dinosaurs run at different speeds, which greatly complicates your task. However, this is the beauty of the game, which does not forgive mistakes but leaves an unforgettable experience.
In addition to crossing the road, try to pick up various coins that are scattered in large numbers in random places on the map. These coins will bring you various bonuses and additional game points, which are taken into account in the general final table of the account.
Among other things, roads are sometimes separated by rivers and in order not to drown, you will have to jump between the logs. Not only will you need to monitor the ongoing flow of animals that run haphazardly, but you will also need to choose a moment that allows you to successfully jump over the logs. The task is not an easy one, however, such little things have become the main highlight of the game, which pleases a huge number of users around the world.
In addition to the main gameplay, the game offers several interactive entertainments, which boil down to mini-games built into the main storyline. For example, you will be offered to play a round with a one-armed bandit from whom you will have an opportunity to knock out various cosmetic improvements. Now you can control not a chicken, but a small dinosaur.
How to play?
Character control is carried out via the main navigation buttons in the corresponding block on the keyboard. The game often prompts you how your character should act in certain situations.