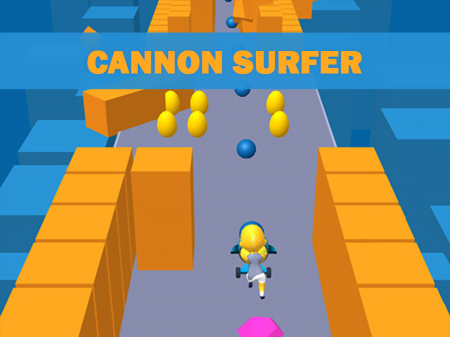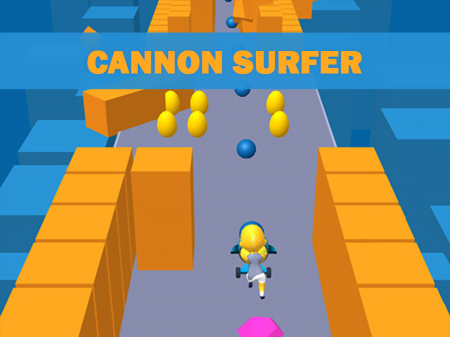 The presented game is an excellent example of how to create simple but extremely fun projects that will allow gamers to escape from everyday worries and immerse themselves in the delights of animated adventures for a while. The project received a lot of attention from users and was included in the list of the most visited games of the current season. At the same time, Cannon Surfer does not differ in a unique idea or any plot delights. But in this case, the lack of various additions, as well as the lack of the need to learn new game mechanics, became the main factor of success. If you were looking for a game that you will have an opportunity to plunge into for 10-15 minutes without any problems, then Cannon Surfer is worth your attention.
Before you is a playing field, which is a track with a large number of different objects. You control a character who moves along this track with a gun in his hands. Your task is to clear your way and get to the finish line, collecting the maximum number of different bonuses along the way.
The main feature of the game is that behind each destroyed object you can expect a diamond, coin, or other bonuses. Be sure to release such bonus components and increase your account. At the end of each level, you find yourself in a workshop, in which the system allows you to choose gifts, improve the combat capabilities of your weapon, or change the appearance of the hero. The more you invest in upgrades, the easier it is for you to go through new locations, each of which will delight you with increasing difficulty.
How to play?
The game is completely controlled by the mouse. Move the cursor over the entire field and your character will follow. The shots are fired automatically and you do not need to press any keys.