Berry Cheesecake Saras Cooking Class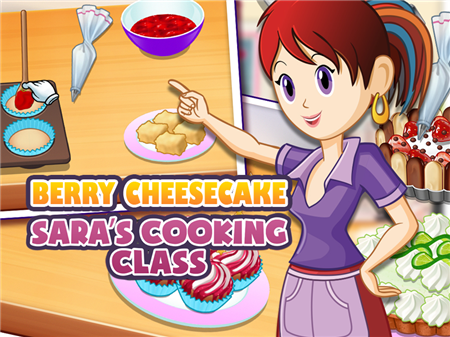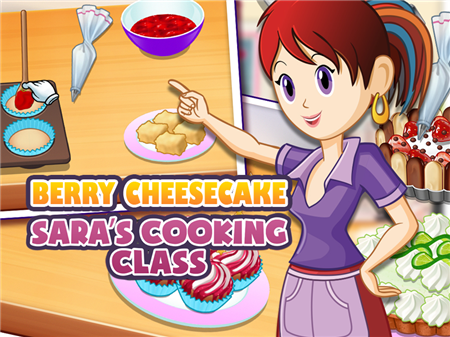 Berry Cheesecake Saras Cooking Class
Do you love interactive ways to learn different useful skills? Then you will definitely like the new cook simulator, which will teach you how to cook excellent goodies. Complete various tasks and learn how to make perfect desserts in stages. Berry Cheesecake Saras Cooking Class is the case when you will be really passionate about the process and will benefit greatly.
As in any other business that requires the use of skill and a large number of different tools, you will need to first prepare your workplace. Choose various containers, ingredients, and other kitchen utensils that you will use when cooking and arrange everything in the right order. If you do not know something, then you should not worry, the game will tell you what and when you need to create a real culinary masterpiece.
Once you have prepared the first batch of the necessary components, start mixing and preparing the various ingredients. For example, one of the first steps will be the preparation of a cream, for which you need to get certain products and mix them in a blender. It is worth considering the fact that if you overexpose the cream in a blender, then it will deteriorate and the taste features of your dessert will not be unforgettable. Carefully follow the prompts of the game and you will understand when and what you need to turn on and when to turn off. This is an extremely important aspect of the simulator.
Such scrupulousness is important at all stages of the game. Somewhere you have to carefully select the ratio of various ingredients, and somewhere you will need to accurately set the temperature of the oven. At some point, you will have to choose the right set of cutlery, and somewhere you can get by with alternative solutions. Even if you get confused in the algorithm of necessary actions, the game will help you telling you how best to act in a given situation. In other words, you will learn the unique process of preparing truly unforgettable dishes and will be able to realize these skills not only in the game. Surprise your guests with delicious dishes and do not forget to brag about where you got such knowledge from.
How to play?
Game control in the game is fully integrated into the graphical interface of the game. Interaction with any objects is carried out by pressing the left mouse button and dragging components from place to place by simply holding the left mouse button.