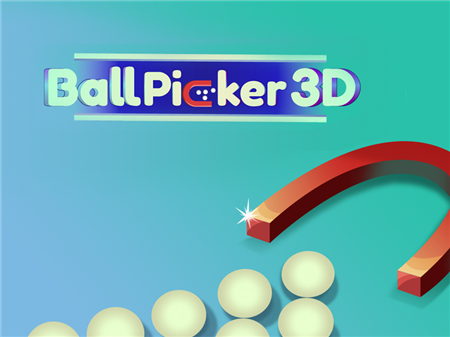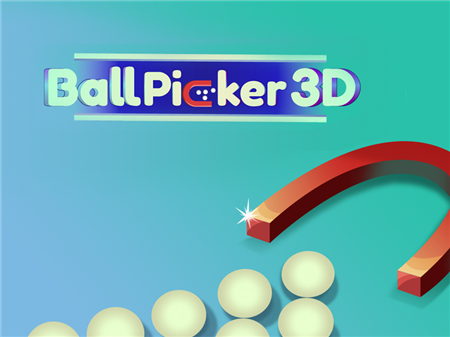 Ball Picker 3D is the continuation of the games cult series that were incredibly popular in the United States, at the turn of the millennium. You have to complete lots of fascinating tasks and pass difficult levels.
You control a peculiar horseshoe, with the help of which you need to collect balls scattered on the gaming table. The essence of the game is that you need to bring a certain part of the balls to the end of the level and not lose them along the way (which is very simple).
For the first few levels, it will seem to you that the game does not present any difficulties and you will feel yourself in an atmosphere of complete serenity. However, each new level complicates the task somewhat, and soon you will find that the game is not easy at all, and new tasks are incomparably more difficult than the ones that were several levels earlier.
For instance, your task is to bring 10 balls to the end of the level. On the way, you will have to quickly move the horseshoe, which can lead to the balls loss. They simply crumble or fall out of the game table. So you have to not only count the number of captured components but also take care that nothing is lost. If you reach the finish line the required number of balls, then you will open a further level. If for some reason you do not cope with the task, then you have to restart the game.
The severity of the game is that there are no save points. And if you have at least once failed in the task, then you have to start all over again. Although for many players, such reboots are an additional motivation to play carefully.
As you progress through the game, your horseshoe will undergo a series of changes. Somewhere you will receive a kind of mixer that will help the balls to get into your "network". In some places, your horseshoe will increase, and that will facilitate the collection of balls. In other words, the game throws up not only difficulties but also simplifies tasks in certain areas and levels.
How to play?
The horseshoe is navigated with navigation buttons or with the mouse. The second method will provide you with smoother movements on the table, which ensures minimal loss of balls. The horseshoe is moved not only by moving the cursor but also by a long press of the left mouse button. If your computer is set to high mouse sensitivity, we recommend that you reduce it. So playing will be much easier.