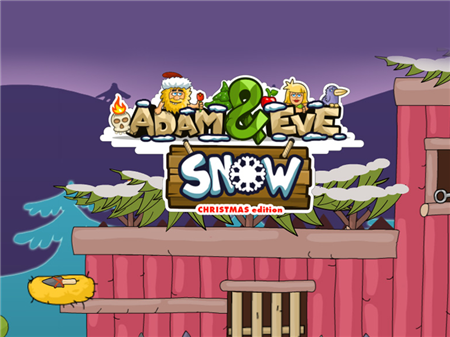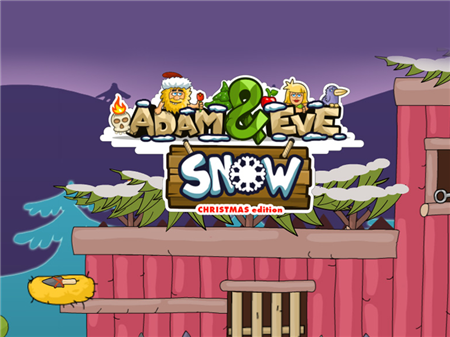 A series of games about Adam and Eve gained such popularity that the developers began to produce special editions dedicated to some special event. Before us is the Christmas part, which went past the traditional accounting of numbers and has collected a large number of enthusiastic reviews around the world. As before, you have to solve secrets, solve complex problems, and get various items. The game about the kindest and cutest characters gets more and more fans every year. That is why the series of games receive constant updates and sequels.
The purpose of your game is to get the New Year's tree, which can be located at all anywhere. However, the imminent approach of the holidays and the annoyed Eve force you to look more than hard. As you already understood - you control Adam, who has to go through a huge number of different locations, monsters, animals, and various guards, carefully guarding some passages. In other words, the path to the Christmas tree will be thorny, but extremely interesting.
As in all previous parts in Adam and eve snow, you will need to interact with various objects, traps, and other characters. Your intermediate goals will be to overcome levels in order to get to a new location. To do this, you need to find outs and sometimes they will wait for you where you absolutely do not expect to see them.
For example, at one of the levels, you will need to move a huge turtle. If this is not done, then you will not be able to go to the indicated point. And before you make the turtle move and move away, you will need to complete a series of actions. First, try to wake her, but you can't do it on your own. Therefore, interact with the bell that will instantly wake the turtle. But this is not enough. To make her move, throw her an apple, and only after that she will move away from the heated place and the path will open for you further.
It is from tasks of this nature that the game consists, which pleases with an abundance of quests and incredibly exciting locations. Ultimately, you will go through all the difficulties and find what your beloved Eve sent you to. What Christmas can be without a Christmas tree?
How to play?
The game is fully regulated by a graphical interface with which you can interact via the main mouse controls. In order to use one or another object, simply click on it with the left mouse button.