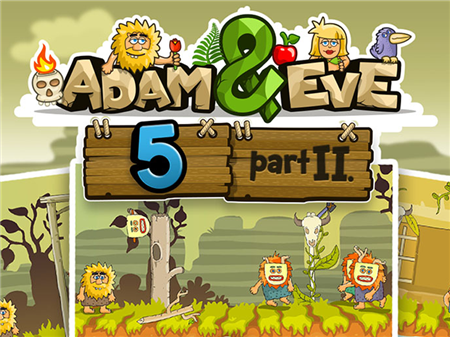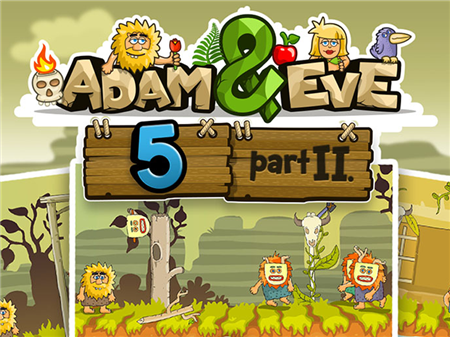 This is the continuation of the cult fifth part of the popular game, which made so much noise. You have to continue the adventures of your favorite characters and finish the story in which Adam found himself. To do this, you will go through numerous levels, complete tasks, interact with other characters, animals. In a word - you will do everything to win. The game has become one of the most discussed on the network and has collected a huge number of positive reviews. In principle, this can be said about any project from the Adam and Eve series, however, those parts that are a continuation of a successful project receive special demand and popularity. This is exactly what happened with the second series of the fifth part of the game.
As before, you have to overcome numerous traps, find ways out of difficult situations, and simply distract the enemies. You cannot directly interact with the characters, but you can use various objects and other factors so that the enemies do what you originally wanted.
The overall goal of the game is to gradually complete the levels and find a way out of a difficult situation. For example, the first level will show you the seriousness of the storyline. It all starts with the fact that you grabbed the tail of a rhino and this is your only opportunity not to fall into the abyss. To get out, you need to make the rhino move away from the edge of the abyss. In turn, this will become possible only after you pull out the carrots, chop it and leave it under the rhino. Such goodies will attract a field mouse, which will run under the rhino, which will seriously scare him and he will move away from the abyss. Thus, you will be saved and get the opportunity to continue your fascinating journey.
Each active object contributes to the common cause. There are no components in the game that are completely unimportant and have no value. All that responds to your clicks you will definitely need. You just need to clearly define the sequence of these interactions. This is the main difficulty of the game, which appealed to a huge number of users around the world, as evidenced by the many positive reviews on the Internet.
How to play?
Game and interaction with various components are fully integrated into the graphical interface. Direct the mouse cursor over the object you are interested in and click on it with the left mouse button.