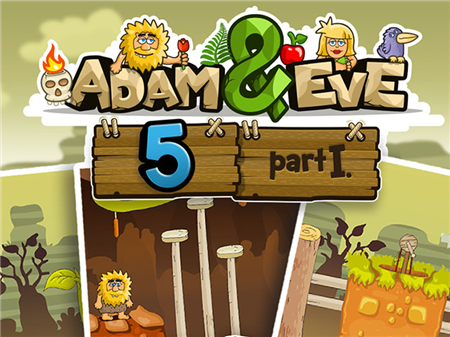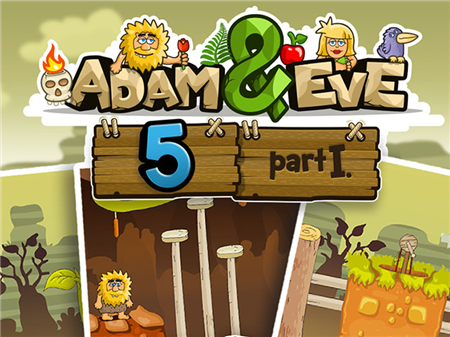 A series of Adam and Eve games occupy a special place among browser and mobile projects. A huge number of users appreciated the fun gameplay, excellent puzzles, numerous difficulties, an interesting storyline, and even musical accompaniment. Everything is fine in these games and this is one of the main reasons why the fifth part of Adam and Eve has already seen the world and why it is no less popular than its predecessors. Ready to plunge into a fascinating primitive world that will give you a lot of positive emotions? Then let's get started!
You have to control Adam, who must reach the final level. Moreover - you will find a large number of different difficulties that you will encounter. And all this is the very fun gameplay that haunts a huge number of users.
To pass one or another level, you need to consider a large number of different factors. Quite often, other characters or animals will block your path. You cannot directly interact with them, forcing them to simply go astray. However, Adam can use various items that can dramatically change the situation.
Let's say if you need to make the evil monster go out of your way, then just try to distract him with food that may be lying somewhere nearby. And if another person bothers you, then try to get him to leave the location by frightening something. One such example would be the fright of a floating character who would hold on to the water with a bamboo stick, which is so necessary for you to build the stairs.
There are a huge number of such examples, and each new level will throw you more and more difficulties. In order to pass the levels without any problems - carefully monitor the location of various things and try to click on them. It is quite possible that you couldn't notice some tiny detail that is necessary for you to pass this or that level.
How to play?
Game control is fully integrated into the graphical interface. You do not need to press any buttons. All you have to do is to direct the mouse cursor over various objects and interact with them. Thus, you will use various objects and complete tasks to pass the levels.