Candy Riddles: Free Match 3 Puzzle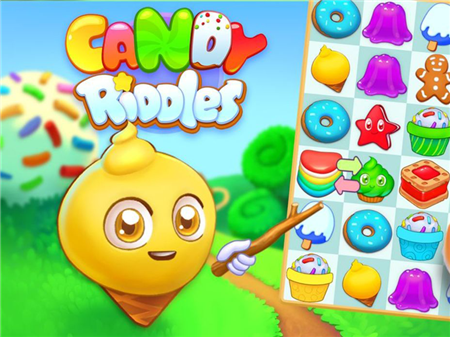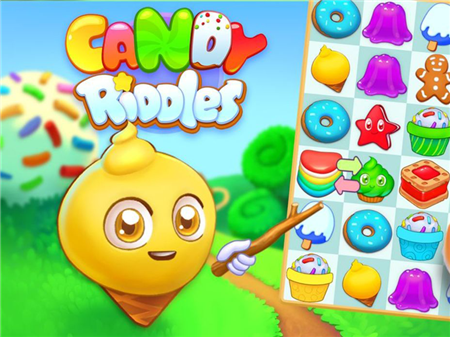 Candy Riddles: Free Match 3 Puzzle
It's a popular game that will be an excellent reason to distract from everyday routine. Do you want to plunge into the fairy-tale world of sweets that also crave adventure? Then get ready for new challenges and interesting tasks! The game owns a huge number of awards, which is clearly confirmed by the ever-growing rate of players around the world.
Candy Riddles: Free Match 3 Puzzle pleasantly delights with its colorful design and incredibly pleasant atmosphere. However, in terms of gameplay, the project is no different from a huge number of related games. You will have to add sweets into a single figure, which will disappear from the battlefield. For this, the components will have to be moved and mixed.
The movement of the components is done by the usual replacement of two separate sweets. If, as a result of such a replacement, the components form a single color, the figure disappears. If not, then the sweets will return to their original position. You can't just swap components in this way.
It is important to take into account that figures are destroyed only when combining three or more components in one line. If you put more than three sweets in a figure, then you will see the appearance of a bonus component, which, when used skillfully, can destroy a large number of sweets, which will bring you closer to victory.
Each level will give you new challenges. You do not have to just sit and do the same thing monotonously. The game will ask you to break sweets of a certain color or to fulfill additional requirements. Thus, Candy Riddles: Free Match 3 Puzzle will give you a special list of game tasks that you will remember for a long time.
Despite the fact that the general mechanics of the game are similar to a huge number of similar projects, the game nevertheless offers a unique element that is not found anywhere else. Most of the levels will require removing a specific amount of certain sweets from the game table. And if in other games you need to destroy a specific number of required pieces, then Candy Riddles: Free Match 3 Puzzle, these pieces can receive additional values ​​in importance. This is marked by a certain number next to sweetness. Destroying the sweetness, which is of triple importance, you destroy not one component, but three at once.
How to play?
Game control is implemented via a graphical interface. Interaction with certain elements is carried out by the main organs of the mouse.