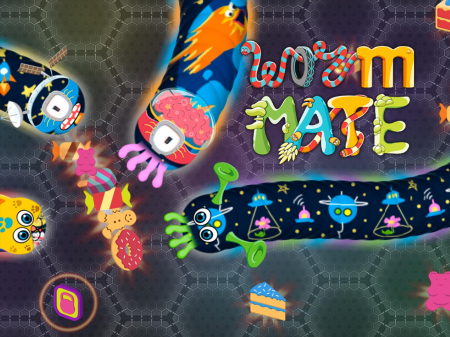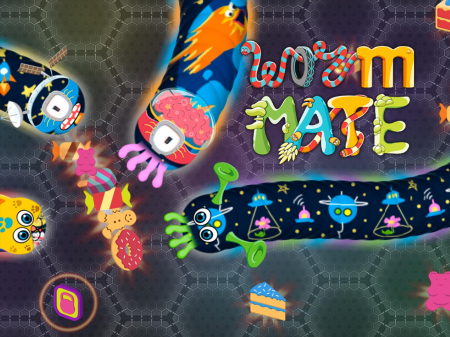 One of the many games from the beloved snake cycle. You control a bright and colorful worm, which should eat everything edible and gain its own mass. At the same time, the map has no boundaries that you can come up against and you can safely touch your own body. Unlike the classic version of the game, this will not lead to an immediate defeat and opens up new opportunities for the player.
The highlight of the game is the fact that together with you a huge number of extraneous players participate in the game session, each of which also tries to grow in size and occupy the top point in the rating position. Be very careful and attentive! Not all the players are good-natured. Some users will intentionally try to lead you astray and force yourself to attack, which ends in failure.
It is important to remember that you should not touch your opponents, otherwise you will lose immediately and instead of you, there will be a huge amount of sweets eaten. However, if you want to exterminate all the rivals, then simply substitute your massive body for their imminent attack. In this case, you will get rid of the annoying opponent and get a large supply of resources collected by the loser. In order to confuse the enemy, use instant acceleration, which will allow you to take an excellent position on the field and force the player to make a mistake. However, remember — any wrong move and you lose!
No matter what size your worm is, you do not get any advantage over smaller players. Any direct touch of an opponent is a defeat, even if the giant attacks only the newcomer to the game. However, the longer and more massive your character is, the easier it is to surround the enemy, who simply will not have enough room for maneuver and he will lose.
Choose the most adaptive strategy for you and try all the styles of the game, from aggressive attacking actions to strategic planning and unhurried eating of falling sweets. Experiment and be unpredictable!
How to play?
The game offers an intuitive management that is controlled by the mouse. Show the direction with the cursor and your character will follow it. To speed up, press the left button of the manipulator and eat more edible sweets, which are generously strewn with the game map.