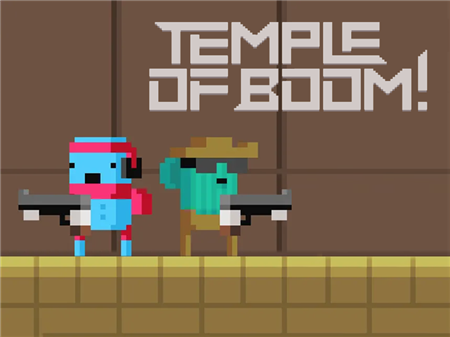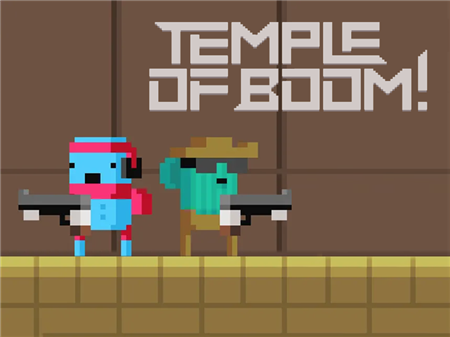 Temple Of Boom is the very case when simple, at first glance, gameplay is transformed from the usual "just to kill time" into a real hobby, to which you will return over and over again. The game will face you with a lot of difficulties that you will have to solve by tactics and brute force. What is more, the Temple Of Boom has a considerable element of survival, which will also take away a huge part of your attention. Ready to exterminate the packs of enemies? Then let's get started!
You control a character who is opposed to all enemies on the map. The most important task is the survival (if speaking about your character) and physical elimination of all opponents that appear from time to time. Killing all the enemies in the wave gives you a short period of time to regroup and prepare for the next wave of opponents.
Carefully monitor your standard of living. Remember that enemies also attack and often there are attacks using firearms, which will not require the close proximity of your character next to the enemies. When your health level drops to a critical point, you will lose. However, killing monsters you earn not only game points but also get the opportunity to get a first-aid kit, which gonna replenish your health reserve. There can be many such first-aid kits within one level, however, they lie on the ground for a limited amount of time, for which you will need to pick them up.
In addition to first-aid kits, other bonuses will fall out of the enemies, but the new weapon is the most pleasant bonus for all players. Each new type of weapon will give you the opportunity to shoot for longer distances and is more powerful. And if a shot from a conventional starting weapon does not kill the enemy for the first time, then the gun will allow you to instantly "put" the enemy and at the same time will shoot with a large affected area, which is also a cool addition.
How to play?
Character control is carried out via the navigation buttons that allow you to adjust the direction of movement. The shot can be fired with the X button. Remember that each type of weapon has a limited stock of ammunition, which will force you to be attentive to each shot. However, you can pick up ammunition from defeated enemies if they used firearms. This will greatly increase your military potential and allow you to remain "alive" for a long time.