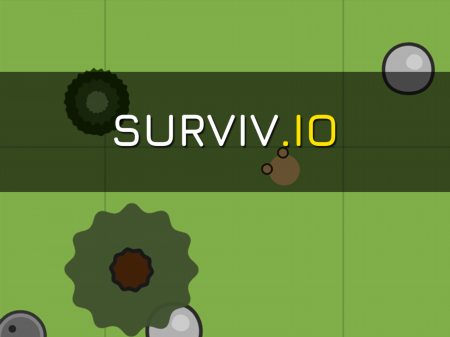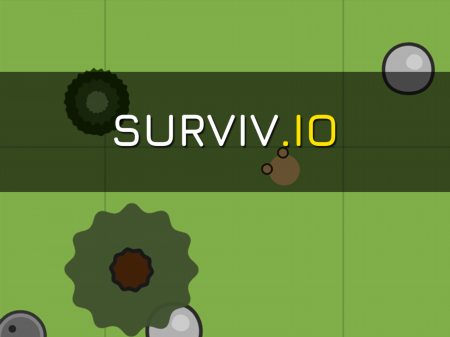 Surviv.io is the multiplayer game that unfolds on an amazing map full of various buildings, trees, obstacles, and other attributes of a military operation. The goal of the game is to survive and eliminate all other players on the map. You start the game with your bare hands and the primary task is to find the right weapons and ammunition.
In order to get an advantage on the map, you need to find an effective weapon that will help eliminate opponents one by one. In order to find the most effective types of weapons, you must study more abandoned buildings or take away trophies from defeated enemies. Among other things, a cargo plane flies above the map, which drops boxes with weapons and other useful things. In such "drops" you will find the highest quality things, so you have to fight well for the landing assistance with other players.
Every few minutes a specific "death circle" covers the map, which constantly and systematically narrows its radius. If you find yourself outside the inner radius of the circle, then by all means perish. But remember - all other players are also trying to stay inside the circle and survive by all means. So your task is becoming more entertaining and interesting.
Choose a strategy according to your preferences. You can hide somewhere in the bushes and wait for the arrival of rivals, or you can force the whole map guns blazing searching the enemies. The huge variability of actions is limited only by your preferences.
You can play alone or with a group of friends up to 4 people. Act together and eliminate enemy groups. Stay alone on the map and become champions. Show everyone what you are capable of!
How to play?
Game control is combined. The direction of vision is indicated by the mouse. Shots are carried out with the left mouse button, but the character moves with the "ASDW" buttons. Any secondary actions (opening doors, or picking things up) are carried out with the "F" button. First, you need to get close to the object, and only after that, the action will become functional.
A huge number of crushed objects are scattered all over the map, which may contain weapons, equipment, or ammunition. Typically, such things are hidden in boxes that are broken by conventional attacks, including fists.