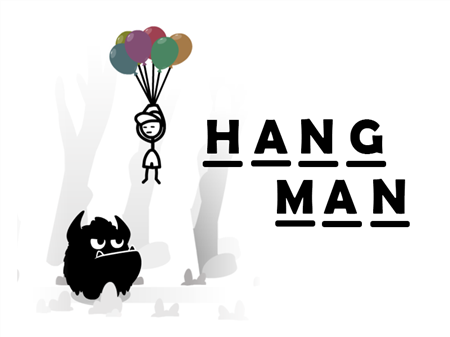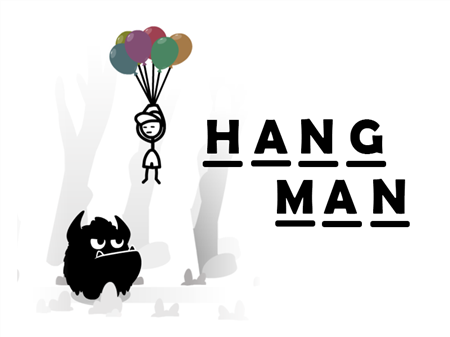 Are you keen on different puzzles and crosswords? If the answer is positive to both points, then proceed to the game! Hangman will make you guess words in a playful and adventurous way. This is that very case when the life of your character will directly depend on your practical knowledge. Ready to prove yourself from the best intellectual side? Then proceed!
You control a fun character who holds on to balls and hangs above the ground. Underneath is an evil monster that not only scares with its huge fangs but is also ready to gobble up your hero as soon as he is on the ground. And its safety is completely and entirely in your hands.
The game makes you a word from general knowledge that you have to guess. The procedure is extremely simple: at the top of the screen, you will see tablets with an encrypted word and a hint. By clicking on the letters you will open them on the field, however, this will happen only if such letters are present in the hidden word. If you do not guess, then one ball that you hold on to will burst and you will approach defeat. There are six of these balls in your hands, which means you have only five attempts, after which your character falls to the ground.
Even though the game is in English, the words in it are quite easy (if you choose the appropriate game mode). Here you will find the names of popular films that everyone watched. Or guess the names of cult personalities of the past and present. In other words - with a high degree of probability you will know every hidden word that the system will encrypt. Try, guess, and set new records.
The essence of the game comes down not only to the banal guessing of words but also to attempts to do this with a minimum number of errors. The system takes into account the number of saved balls and maintains a peculiar score in the game. If you guess the word, then the character jumps on the head of the monster and kills him. Then you move to a new level, where you will find a new monster, new words, and new challenges.
How to play?
The controls are fully rendered in a graphical interface with which you can interact via the main organs of the mouse. Among other things, you can not only select letters with the mouse but also type them on the keyboard, which will significantly speed up the process of entering text if you know the full word.