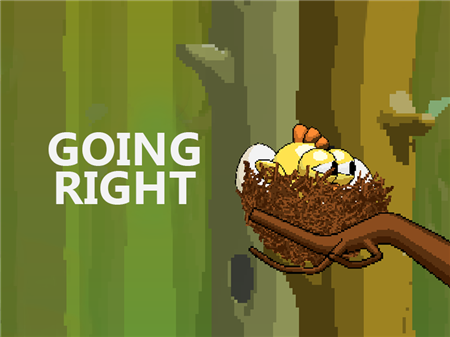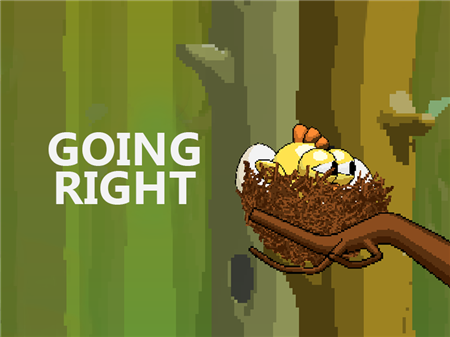 It is difficult to calculate how many high-quality projects exist in the modern gaming market that allow a gamer to complete the game using the same type of commands or actions. Going Right is one of the most striking examples of how such projects need to be created in the third decade of this century. No graphical delights or additional features in the game mechanics. Only fun and entertaining gameplay that will delight you with its versatility. Going Right is the perfect solution for those who have decided to take a break from their daily worries for a while and plunge into the fun atmosphere of gaming.
You control a bird that has lost its nest and quickly wants to return to its chicks that have not yet hatched. The beauty of the game lies in its simplicity in terms of the plot component and a fairly high level of complexity, which is expressed in management. You have to get to the nest, bypassing a huge number of various barriers, traps, and other unpleasant factors that you cannot interact with at all.
And everything would be fine if not for one "but". The bird flies on its own. You have absolutely no way to interact with the speed of her movement. It can either fly straight or freeze in one place, constantly either rising to the ceiling or sinking to the floor. Change of movement up / down is carried out by the function button. You need to calculate everything in such a way that the bird does not run into obstacles and gets to its nest without any problems. It should be noted that with each level the difficulty of the game will increase markedly, which gives the project a special charm.
How to play?
Control is adjusted with the mouse. Holding down the left mouse button for a long time activates horizontal flight. But short pressing will allow the bird to change its direction in vertical projection.