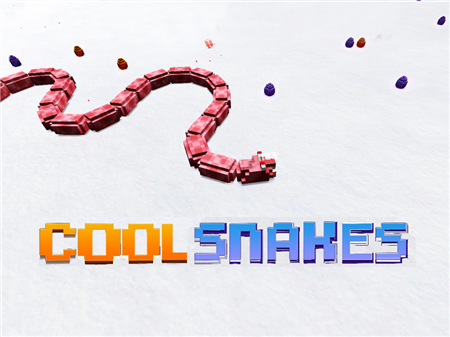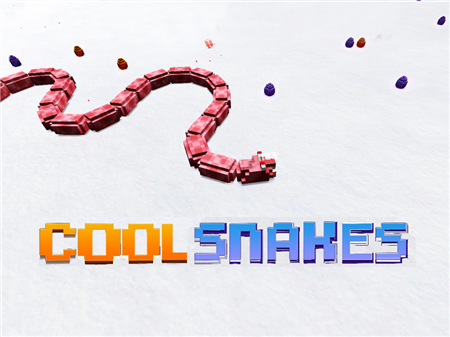 Cool Snakes.io is a fun, awesome, and exciting game from the series of the beloved "Snakes". You will have to not only gain your own mass by eating components but also effectively deal with opponents, each of whom strives to become bigger, stronger, and more powerful. Get ready to confront the true masters of their craft and show everyone who is the boss!
You control a snake, which can be visualized in the form of a toy train, a convoy, and many other skins. Your goal is to gain your own mass and increase in size. This is achieved by the usual consumption of numerous resources, which are strewn with the game card.
Together with you on the map, there are a large number of players, each of whom is trying to surpass your result and defeat everyone on points. As your opponents grow on the map, it becomes crowded and in any case, you will begin to encounter an opponent. It is important to remember that any contact with an opponent on your initiative will end in your defeat. Exactly the same fate awaits your opponent if he touches you on his own.
You can try various tactics and strategies to eliminate competitors from the map. Substitute your own body under the blow, drive the enemy into a corner, and do not leave him any chances for maneuvering. If you do everything right and your opponent loses, then a whole bunch of resources will appear in his place, by eating which you will increase in size.
In addition to the usual resources on the map, there are a large number of different bonuses, such as temporary acceleration or a shield, allowing you not to be afraid of direct touches on your own initiative. Unfortunately, such bonuses have a certain time period, however, they bring a bright component to the intense game.
The more you grow in size, the more seriously your degree of responsibility increases. Despite the fact that most of the players try to avoid the current leaders on the map and by all means do not allow direct confrontations, there is a separate class of users who, on the contrary, prey on leaders. The game does not give any advantages to the owner of large sizes over beginners. You can lose by touching even the one who just appeared on the map and whose snake is still minimal in size.
How to play?
Game control is carried out on the organs of the mouse. Movement is carried out by means of the cursor, and acceleration is carried out by clicking on the left mouse button.