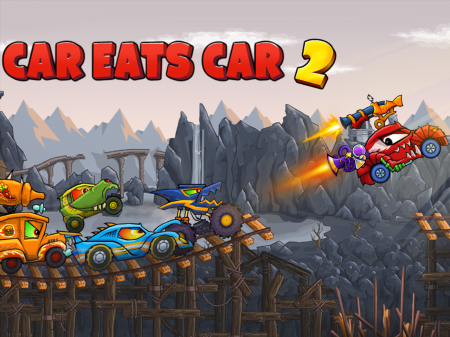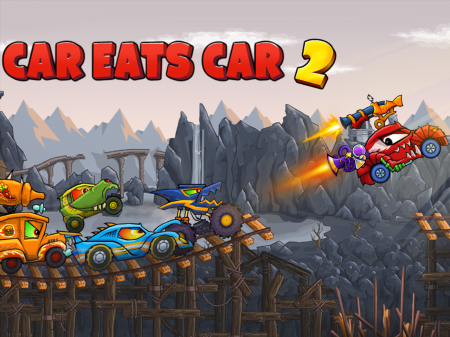 It's the second part of the beloved game in which you have to try on the role of a peaceful car. Now you have to run away from numerous harvesters, each of which strives to destroy you. The game has caused a lot of positive feedback from a huge number of players around the world. Even though the main character - a car - was radically changed in the second part of this game, nevertheless, the users appreciated this improvement in gameplay and with great pleasure spend a huge number of hours in the game. Want to try? Join one of the most developed communities of rigorous racing enthusiasts.
You drive a red car, whose goal is to reach the end of the level as quickly as possible. You are haunted by evil harvesters who are eager to harm you. Your character has a very limited supply of health, and if you do not take any appropriate action in response to the aggression of the offenders, then you will inevitably lose.
First of all, you must remember that you have a great opportunity to improve the various characteristics of your car and add improvements to it. Besides, you can equip the car with traps, bombs and other means of self-defense. If all this is not done, then your trip will be bright, but short.
How exactly do you prefer to get to the finish line is your choice. You are constrained only by your imagination and ability to delicately balance between dexterity and strength. If you do not want to engage in confrontations with enemies, then choose speed improvements that will allow you to get the finish line as efficiently as possible. But if you prefer to fight back, then focus on survival and defenses.
However, there will be moments in the game when it will seem to you that this level cannot be passed. The aforementioned upgrades will help you. And if you simply do not have enough crystals for their acquisitions, then go through several levels that you have already passed. This is the easiest and most reliable way to acquire wealth. And when you gain a certain mass, you can try to pass the level that you have not been given before.
How to play?
Car control is carried out using the ASDW buttons. Each of the directions tells you the position of the car relative to the axis of the wheels or the vehicle current speed. The same controls are duplicated on the navigation buttons on the right side of the keyboard.