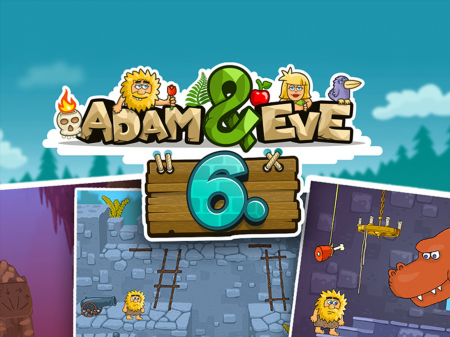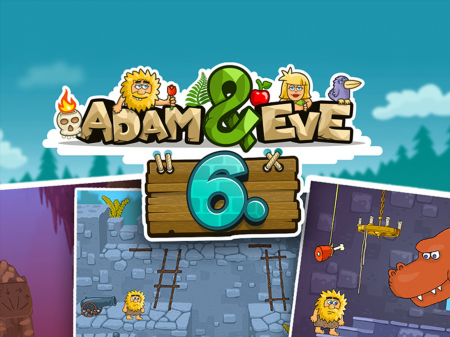 People do so many crazy things because of that great feeling — love... The game will tell us the story of Adam in love, who is desperately looking for the way to his beloved Eve. If you want to help the poor fellow in love achieve his goal and find his beloved, then get ready for a lot of puzzles that will have to be solved.
Adam and Eve 6 is the sixth part of the beloved game that tells the story of a couple in love. This time, Adam has to find Eve and for this, he will have to solve a huge number of tasks for passing each level. All locations are full of numerous puzzles that impede the path of the hero in love. Your task is to most efficiently solve numerous problems and achieve your goal.
The game is not just a quest full of various interactive difficulties, but a real puzzle that requires consistent solutions. If you miss even the smallest component and do not perform a certain action, then progress at the indicated level will be impossible. Closely monitor all components and try various options for their interaction. In some cases, the game tells which of the objects can be used. Thus, you will quickly enough understand what and where to click.
As soon as you reach the level goal and perform a certain number of actions, you will have access to the next location, where you will again find a set of peculiar puzzles. If you can't solve the problems of the current level and you can't understand why you can't get through, then try to try all the options for interacting objects, but in a different order. Most likely you are incredibly close to a solution, but you missed some insignificant detail. In Adam and Eve 6, even the smallest details decide the outcome of the game, and numerous tasks bring to the game an element of uniqueness and a peculiar spirit, which is so loved by thousands of fans around the world. Otherwise, the game would not have reached the six-point mark.
How to play?
Game control is fully rendered on the main organs of the mouse. Interact with the character through the graphical interface of the game and click on various objects. No additional keys that would be responsible for the activation of various objects in the game are not provided. You can solve all the necessary tasks through the basic capabilities of the mouse.