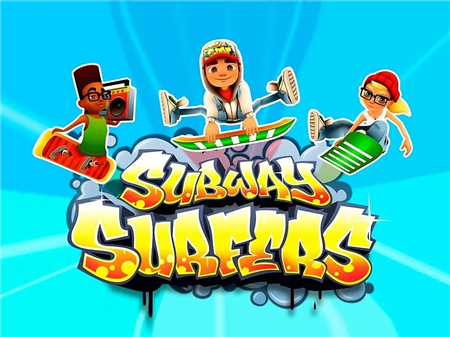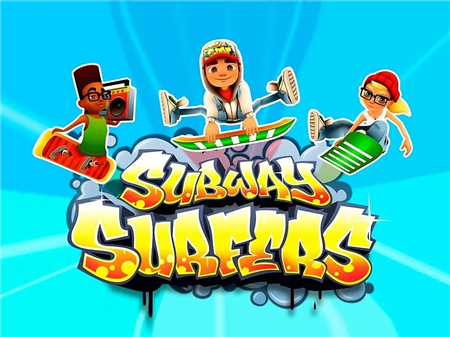 What could be better than a series of games in which you run away from a guard on railroad tracks? Subway Surfers is a great example of quality implementation of an idea that has attracted millions of users all around the world. You have many hours of running along the paths with the obligatory collection of gold coins. However, that's not all as something else awaits you. Are you intrigued? Then go into the game faster and see everything with your own eyes!
Your character loves to dirty paint graffiti on subway cars. However, the act does not go unnoticed and a guard begins to chase after you. Your main task is to quickly and timely overcome obstacles in order to avoid persecution. Moreover, every minor mistake can turn into a real tragedy for you. If you make a mistake in the direction of movement or get stuck in some appropriate barrier, you will immediately be caught that it's not good. Try to get on the right track in time and bang your head on cars as little as possible, this will also slow you down.
Each meter you pass brings you game points. Collect them in large quantities and set new records that can be boasted with the whole world. However, points are far from the only motivation to run. Along the way, you will come across gold coins. By collecting them you can improve some of your characteristics and significantly increase the capabilities of your equipment.
For instance, you can use a skateboard on long straight sections. By increasing its' characteristics of speed and maneuverability, you will get a tangible advantage that will give you the opportunity to run far and long enough. Try not to ignore or skip coins, but if you have a choice between coins and the risk of being caught, it's better not to risk it. Further along the way, you will encounter a mountain of similar bonuses.
How to play?
Character control is regulated by the main navigation buttons. The up arrow allows you to jump over obstacles. The down arrow allows you to slip under some kind of natural or artificial obstacles. Well, the side buttons will show you the direction of movement, where you can direct your character. Also, the Space button activates the use of your skateboard. However, you can only use it in some special situations.