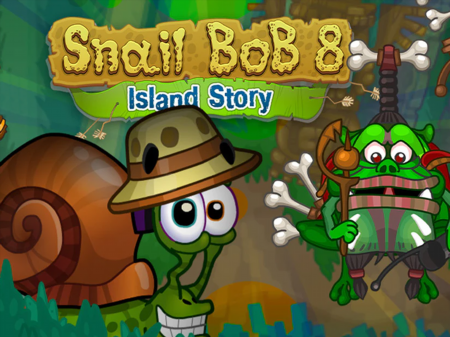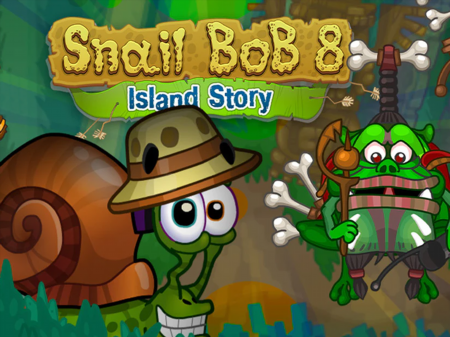 This installment in the series is full of color and fun sounds. There is more action in the game than in some of the other games in the Snail Bob series. The graphics in this game are a bit more detailed and make you feel like you're in an island environment while trying to find the tools that are needed to get off the island. There are a few characters that in Snail Bob 8 that he will meet that could offer advice. As with the other games, there is a map in the corner of the screen that details where you're at and where you should go while playing the game.
While you're playing, Bob has to try to catch fish by finding materials to use in the water. He wants to catch fish so that he has the energy to get through each level. There are also stars that you have to find in each level. You do have to find each star, but most of them are easy to locate. If you don't find every star, you can replay the level until you collect them. There are island warriors who chase you through some of the levels, so you have to watch what's behind you in order to succeed. Each level is locked until you get enough stars to make it to the next one. The first few levels are easy as Bob enters the jungle environment on the island.
There are areas where lava balls fall from the sky, so you have to click on Bob to make him hide in his shell. You're guided in the game as to when to hide and when to press switches and levers to get Bob from one platform to another. There are also buttons to use to make Bob move faster and to turn him around so that he's facing the right way. Some levels have platforms that you have to click on so that they are solid enough for Bob to walk across. Areas of quicksand are below Bob on some levels, and he will sink down in the sand to where he can't get out. This means that the game ends. He can be transported through areas via a tunnel. There are monsters that will grab him if you don't make sure he hides in his shell. Your goal is to find fish and try to survive to get off the island.