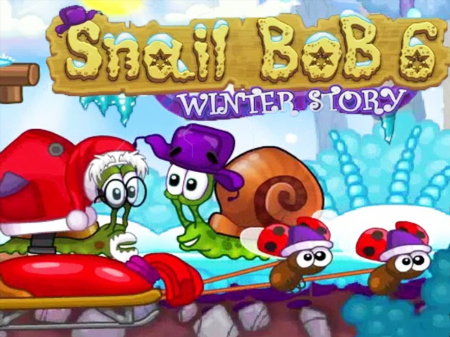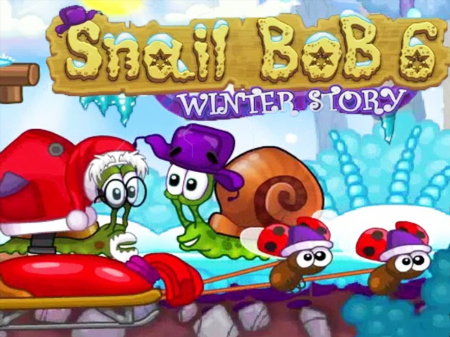 This is an installment in the series that features a lot of snow and ice, causing Bob to slip around at times. However, it's a fun game to play with lots of details and colorful additions. It's a game that is enjoyable at any time of the year, but it tends to get you into the spirit of Christmas and the holiday season when you play in the winter. There are over 90 levels in Snail Bob 6, each getting harder as you progress through the game. You still have to press buttons and switches to stop gates and platforms so that Bob can get on them or get through them to reach the end of the level. You also need to find three stars in each level, but it's not a requirement to advance in the game. There is an option to replay the level or start the game over if needed.
There are snowmen and fun winter displays seen on each level that you play in this game. There are also spiders hanging from webs that you have to avoid. Try to use the snowmen to block Bob from a few of the characters that can cause harm. If you complete the levels, there are mini-games that you can play to get more stars. The opening scene of the game features a cozy fireplace and a wreath on the wall, giving the game more of a Christmas feeling instead of just a winter wonderland. Ornaments hang from the trees while playing the game.
There are areas of snow that fall that will transport Bob from one area of the game to another. When you reach the ice blocks, be careful about which ones you break because there are bees in some of them that will sting Bob. This means that he will be injured and have to start the level over. There is a snail that looks like he is covered in ice that Bob meets sometimes. When he meets this snail, speed up so that you can get through the exit. The monsters are on platforms that you can click to make them fall. This will make it easier for Bob to get across the empty space and to the end of the level. While you're playing the game, there are different types of buttons and levers that you have to operate in order to navigate Bob through to the end, providing challenges that linger through the entire game.