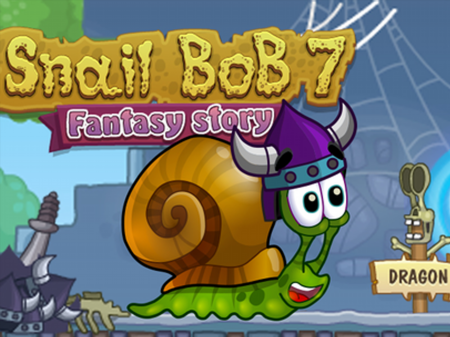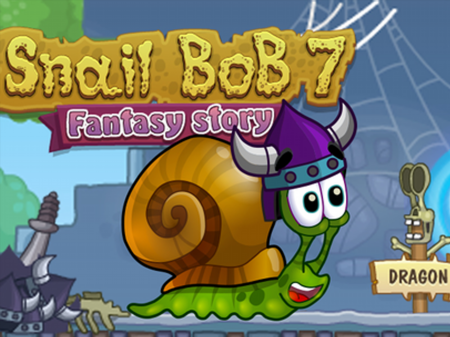 Bob has been spending most of his free time reading a range of fairy tales, and he can't seem to put the books down for even a second. The magic forces awaken one day and trap Bob inside the stories he once loved. Without a plan in place to help him return home, Bob needs all of the help he can get, and he has recruited you to be his guide. Can you outsmart the enemies, wizards and other creatures committed to keeping Bob in their world forever?
Pressing the play button transports you to the world in which Bob has found himself, and you will need to stay alert and focused if you want to give everyone's favorite snail any hope of making it home in one piece. Watch out for enemies and traps that can harm your progress if you don't want to fail your mission, and you might have a chance to reach the other side of the game. The journey you are facing is beset with roadblocks and pitfalls at every turn, and letting your guard down is not an option.
The challenges you and Bob are going to face will put your problem-solving skills on trial. You must look at the environment, find buttons and press them in the right order to save the day. You will create bridges, redirect enemies and protect Bob from a range of threats by keeping a level head and planning each move with caution. Working together is the only way you and Bob have any hope of making it out of the world in which you are trapped, and you must keep moving forward no matter the threats to which you are exposed.
Many of the games you find online are only fun for limited age groups, and many people want to discover ones that people of all ages can enjoy. If you share that goal and want to find a game that makes sense for almost everyone, Snail Bob is the answer. Adults and teenagers will enjoy the challenging puzzles, but children will like the fun themes and rich storyline. While playing this game, children will also develop problem-solving skills that will benefit them in school and life.
Another benefit of Snail Bob 7 is that you are not limited to certain gaming platforms. Because it has a responsive design and is flash powered, you can play Snail Bob from your desktop or portable device. No matter where you are, you can give this game a try as long as you have an internet connection. Snail Bob can provide you with tons of fun and let you work on your problem-solving abilities at the same time. You will then know you have found a game that stands out from the rest in a positive way.