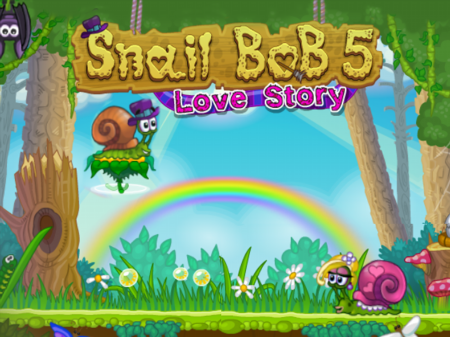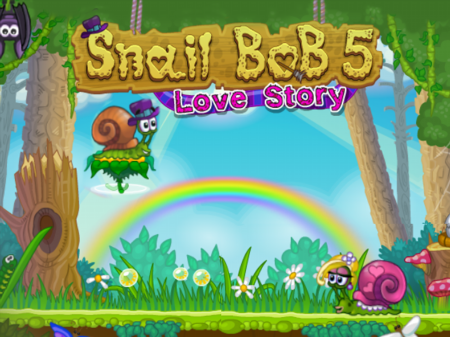 The internet is riddled with flash games that promise to provide you with a fun and enjoyable experience. Games that deliver on that promise, though, are rare. If you are looking for something that stands apart from the crowd in ways that you won't soon forget, welcome to Snail Bob 5.
In this puzzle adventure, you watch as Bob falls in love with another snail after looking at a sign promoting her next concert. Bob's only hope of finding the love of his life is to make his way through a challenging and dangerous forest, and you must give him a hand. With your help, Bob might have a chance to meet the female snail that has stolen his heart, but it won't be an easy journey.
To help Bob reach his goal and meet the female singer snail, you need to use your head and think on your feet. The forest is beset with enemies that will stop at nothing to prevent Bob from getting to the concert, so you can never let your guard down.
Control Bob by clicking on him and the direction in which you would like for him to move. You will even click buttons and levers in the environment to help Bob avoid threats and trap his enemies. The challenges you face will stop Bob in his tracks if you are not careful, but using the correct approach and keeping a level head is the key to your success.
The first few levels are easy and aim to give you an idea of what you can expect as you progress throughout the world. Once you make it past the first few stages, you will find that the puzzles are even more daunting, forcing you to push yourself to the limit. You must time your move so that Bob can stay out of danger and remain on the right path. Mistakes can cause Bob to lose everything for which he has worked, and you need to remain focused on the task at hand unless you are willing to fall behind. With a little determination, you should have no problem reaching the end of the stage.
Some flash games are compatible only with a limited number of devices, restricting your ability to play on your terms. Defeat that roadblock by opting for Snail Bob 5, and you will be glad you did when you see the number of compatible devices. You can play it on your desktop, laptop or smartphone depending on your situation and needs.
If you play on a tablet or another device with a touch screen, you can control Bob and his environment with your fingertips. Snail Bob's compatibility with many devices lets you enjoy the game no matter the situation in which you find yourself. You will always have a great way to pass the time and build your problem-solving skills.