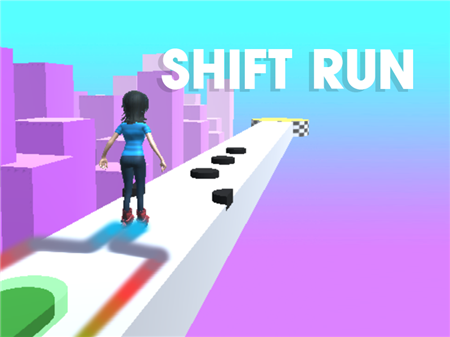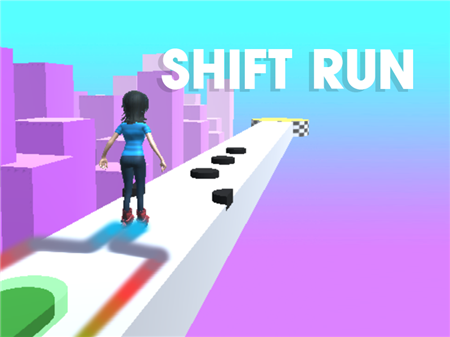 It's another game that will train your reaction well and make you go through any difficult level over and over again until you manage to overcome it. Shift Run is a dynamic skater simulator, which boils down to the task of perfectly passing the track and making the minimum number of errors.
You control a girl on skates, who is going to go through the level without a single hitch. The difficulty lies in the emerging barriers, to overcome which you will need to quickly and alternately change the position of the legs. However, you cannot independently change the speed of the movement of the character. You just have to try to avoid numerous obstacles and not make mistakes.
If you choose the wrong position on the track, then you will fall. If you fall, you lose and will be forced to start again. The game does not provide for the availability of save points and forces you to start the level anew. On the other hand, in Shift Run there are no penalties for losing that will force you to start the entire game process all over again (from the first level). So you and your character will have more than enough time to hone your skills and speed of decision making.
With each new level, the game will gradually increase the difficulty. As soon as it seems to you that you already can do everything and can deal with any difficulty, you will unobtrusively be offered unexpected accelerations on the track or the presence of pits that you need to have time to jump over. In other words, you will be surprised at the number of new obstacles that will need to be mastered.
Sure thing, every unsuccessful contact with obstacles is accompanied by a merry fall of the main character, but it is better for you to learn how to use skates as quickly as possible and pass the levels one by one. There are no special tricks or secrets that could help pass locations faster. It all depends entirely on you, which adds a pleasant twist to the game. Enjoy high-quality gameplay that will pleasantly surprise you over the long hours spent trying to jump over a concrete fence.
How to play?
Game control is incredibly simple — each press of the left mouse button will cause the character to spread his legs wide. As soon as you release the left mouse button, the character will bring his legs together again. Use the correct timings in order to pass the track as efficiently and without errors as possible.