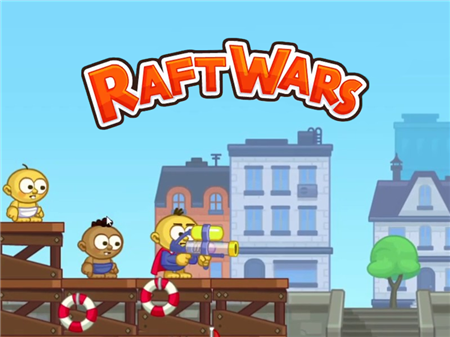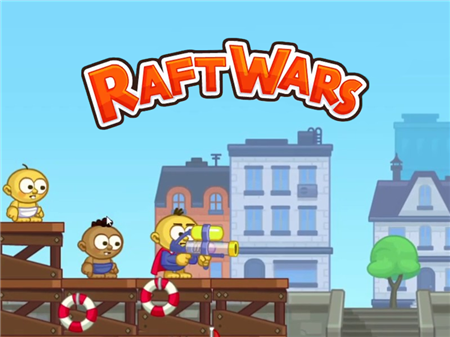 Do you want to shoot at real pirates? Yes, you heard right! In real pirates! Raft Wars will give you an unforgettable experience and excellent gameplay, which will delight in atmospheric, fascinating game mechanics and a fun competitive element. And as soon as you deal with the pirates, then the Vikings will be waiting for you, and after that... And though, we will not spoil the surprise for you and give you the opportunity to find out yourself what awaits you next.
The goal of the game is to defeat opponents in a full-time shootout on the water and go to the next level. At your disposal are two characters on an inflatable boat, which is held on parole. But opponents will meet against you, equipped much better. It remains only to rely on your skills of aiming tennis balls and on steel nerves.
If you correctly maintain the speed and height of aiming, then you will fall on opponents. Each hit robs the enemy of a certain portion of their health. It all depends on the type of projectile and the degree of impact. If the hit is direct, then there will be more damage than from a hit after a rebound. Especially little damage is inflicted from hitting at low speed. The physics of the behavior of the shells and the amount of damage in the game are thought out very subtly.
In the initial stages, only two characters are at your disposal, while you have to fight against three opponents. However, over time, you can improve the characteristics of your raft and the number of controlled characters will increase. This is important because the team wins with at least one participant remaining on the raft. And if your number of characters is equal to the enemy, then the chances come down to balance.
However, it is worth recognizing that with two characters you can easily deal with opponents as soon as you understand how best to use your weapon. In order to knock out one enemy character from the game, it is not necessary to hit him several times until he runs out of health. Just push it into the water and it's done!
How to play?
The graphical interface of the game is fully controlled by the main organs of the mouse. Purchase, improvement, sight, and shot are regulated by the cursor and the left button of the manipulator. How exactly is better to aim - the system will clearly show you. Do not forget about the power of the shot, which is regulated by the range of the cursor from the shooter!