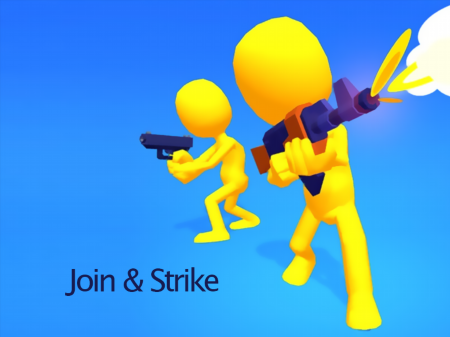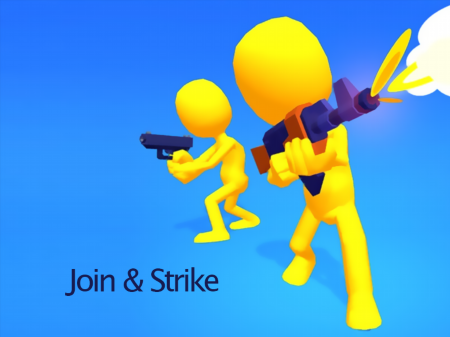 It's a great example of how you can create a real masterpiece from a simple idea and incredibly simple game mechanics. The project in a short period of time has collected a large number of positive reviews and has become one of the most popular in the segment.
If you have been looking for a quality, interesting, fun, and very entertaining game for a long time, then the Join & Strike is definitely your choice. However, you should be careful. If you plan to come here for 10 minutes just to get away from the daily hustle and bustle, then carefully follow the time, because the project is so interesting that it captivates immediately and for a long time.
The essence of the game is to clear the area, and this can only be achieved by shooting all the opponents that are marked in yellow. Initially, you control only one unit, but you can increase the size of your squad by simply approaching the men marked in white. All of them will automatically join you and your attacking potential will increase noticeably. It is worth remembering that opponents will constantly shoot at you and you should avoid direct collisions with them. Every physical contact with the attackers or a hit bullet instantly kills your soldier. The game ends when you loose all allied units.
How to play?
The game is controlled by the mouse. Units shoot automatically, you only need to direct them in a certain direction. To do this, hold dow