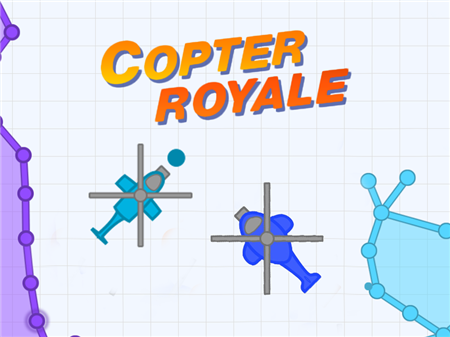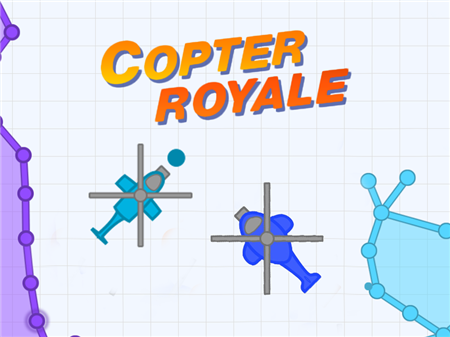 Copter Royale is a successful combination of several incredibly popular genres at once, which allows the player to plunge into the world of competitive confrontation and the ability to compete with real players. You have to learn the difficulties of helicopter control and the creation of vast territories in which you will be the sole owner. Among other things, let's not forget that there are a lot of other players in the game session with you. Each of the players is completely unfriendly and in order to show everyone who is the boss here, you have to seriously sweat. Ready for an adventure? Then take off!
You control a combat helicopter that can attack and build various figures. The goal of building these figures is incredibly simple - being inside your own possessions you are completely invulnerable. However, your improvised fortress also has weak points marked by dots. If the enemy hits shots at connecting points, then you will begin to lose one wall after another. So be extremely careful if you rely solely on building shelters as your main defensive strategy.
Together with you, a game session is shared by a large number of players, each of whom strives to destroy opponents. And in fact, this is the main goal of the game! You need to systematically get rid of opponents and remain the last active and lively player on the map. The one who remains the only survivor wins the round.
A large number of different bonuses appear on the map in random order, each of which improves certain characteristics of your helicopter. Some improvements will significantly increase your combat potential, while others will boost maneuverability. In general, you yourself should try numerous boosters to understand how that works.
How to play?
Helicopter control is carried out using the ASDW keys. The direction of the shot is determined by the mouse cursor. Aim where you want to fire and click the left mouse button. A similar function is duplicated on the navigation buttons of the keyboard block. Building blocks is done by pressing the Space button. Overall game control is quite specific, although it does not conceal any secrets. You get used to the specifics in a couple of minutes, after which you can show everyone who is the strongest in the game.