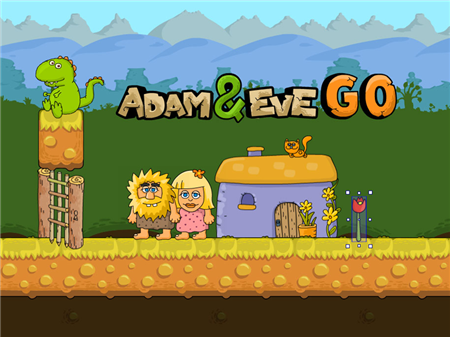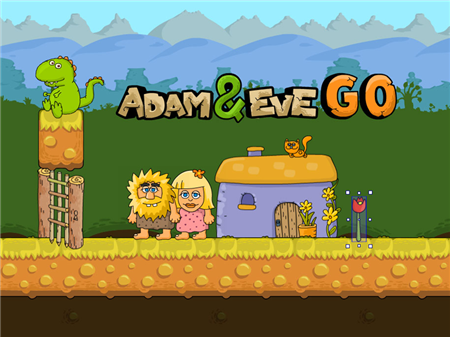 It's an another game about the favorite characters of Adam and Eve. Immerse yourself in a prehistoric world full of adventure, amazing animals, and many puzzles. Enjoy the vibrant colors of a serene world and cute dinosaurs.
You have to go to get provisions playing for Adam. Each new level will allow you to collect as much food as possible and return home. When returning home, you must definitely find a flower to please your beloved Eve, who is waiting for you from the campaign.
Each new level will allow you to collect more fruits but will give you many more difficulties and challenges. And if in other games you quickly get tired of the same type of actions, then in Adam and Eve: Go you will have to solve serious problems. And the farther from home, the more interesting, dangerous and entertaining.
It is worth noting that you can pass all the traps and go through the level picking up the minimum number of fruits. However, before you complete the level, make sure that you have not missed anything. This directly affects the success of your gameplay and the final scoreboard.
However, the game cannot be called completely serene. The further you go, the more dangers will lie in wait for you. Some types of dinosaurs will not let you go so easily to the required point. Tame wild animals, avoid various traps, and try not to fall from cliffs to sharp objects. If you do everything right, you will soon return home with prey.
Each new level will allow you to enjoy new local tasks. Somewhere you will have to find the missing item and pass it to various new heroes, and somewhere you will scour the keys looking for the treasures. We will not spoil your impressions by telling all the secrets. Enjoy the unique mechanics, a fascinating storyline, and the presence of a large number of tasks that you will definitely like.
How to play?
Game control is regulated by both the mouse and navigation buttons. You can indicate the direction of movement with arrows, or you can hold down the left mouse button in the desired direction and Adam will follow where you are pointing. Interaction with various subjects occurs automatically. You just need to get closer to some object and it will be selected or used.