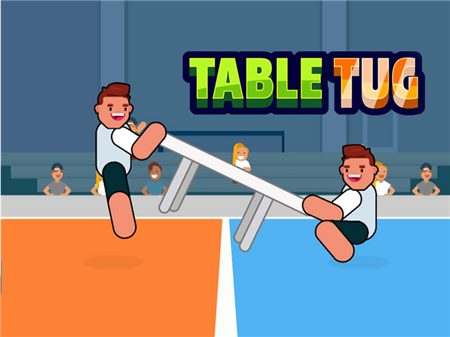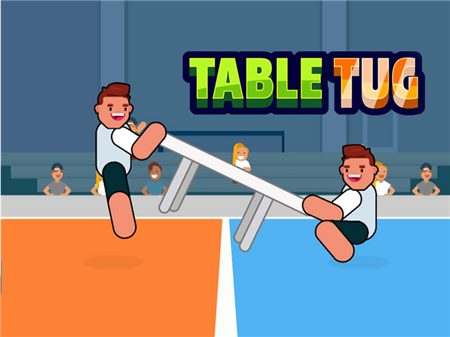 What could be better than a simple tug game? Sure thing, only a game of tugging... the table! Despite the simplicity of the mechanics and the lack of a large amount of game content, TableTug.io pleasantly surprises with fun gameplay and a great mood.
You control a character who competes in strength with other users. Your goal is to move the table to your side of the playing field. To achieve this goal you need to competently and timely bounce. Your character independently makes a huge amount of effort to drag the table. All that is required of you is the proper use of the legs to facilitate this task.
At the opposite end of the table, you are opposed by an adversary who is equal in strength and experience to you. Therefore, it will not be possible to beat a beginner due to a lack of knowledge. Try to work as efficiently as possible with your feet in order to drag the table in the right direction. Over time, you will understand how to act better and how to resist players who use different tactics.
The game from time to time throws up unpleasant surprises in the form of additional objects that are reset to the table. You will have to fight not only with the enemy but also with additional obstacles that will appear from time to time. One of such tests can be an altered force of gravity or additional objects that will have to be thrown off at the enemy. In other words - you definitely won't be bored!
As you gain experience and achieve a large number of victories, you will get serious opponents who already understand how to win and what needs to be done in order to move the table in their favor. Try different tactics, try new strategies, and surprise enemies with sleight of foot! In the end, you will realize that simply thoughtlessly clicking on a space is an extremely dubious strategy. It will only help when playing with beginners. As soon as you start to come across serious opponents, you will have to seriously reconsider the tactics of action.
How to play?
Character control is reduced to pressing a single Space button. The role is played not so much by the frequency of clicks, but by frequency. Closely monitor when your character lands and timely push off the floor. Your success depends on correctly calculated actions.