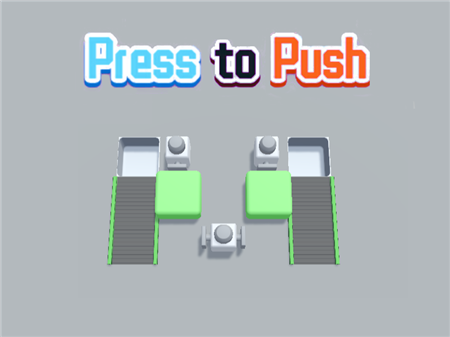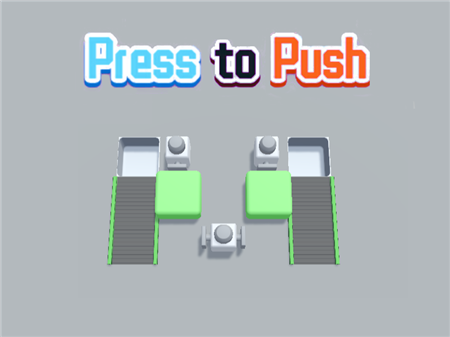 Press To Push is a great example of a new generation of puzzle implementation. You will need to drive various blocks into specially designated areas through special mechanisms. The game quickly gained worldwide recognition and with each new month shows a steady influx of users. This means that the project turned out to be interesting, exciting, and truly popular for a huge number of users around the world.
As noted above, the goal of the game is to drive the blocks into the holes specially designated for this. At the same time, it is important to remember that the holes into which the blocks must be placed cannot move. You will have to move the blocks themselves. And they can only be manipulated by means of special mechanical robotic tools that are responsible for shifting any object in one direction.
You cannot control the direction of the mechanism itself. It is static and cannot change its fixed position. If you don't see the opportunity to drive the block into the hole using a certain mechanism, then try to look at the map more closely. With a high degree of probability, you simply do not see an obvious and simple solution that will allow you to fit your block in the direction of the desired mechanism.
At the initial levels, the game shows us the simplicity and routine of solving the problem. However, with each new level of testing will be more sophisticated, and the complexity will increase markedly. If at the first levels the solution to the problem will lie on the surface and the procedure of laying a block in a hole itself will not be any difficulties, then a little later you will have to suffer a lot to find at least a visual solution to your problem.
The project has become one of the most talked-about on the Internet. A huge number of topics on the forums were created in order to tell players how to better and more efficiently pass one or another level. Despite the relative simplicity of actions at the initial levels, later it will be really difficult for you and you will begin to understand all the players who turned to more experienced users for advice.
How to play?
Any interactions in the game are made via the main controls of the mouse. Direct the mouse cursor over any mechanism that interests you and activate its work by clicking on the left mouse button.