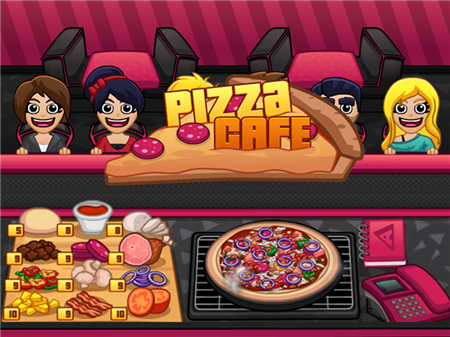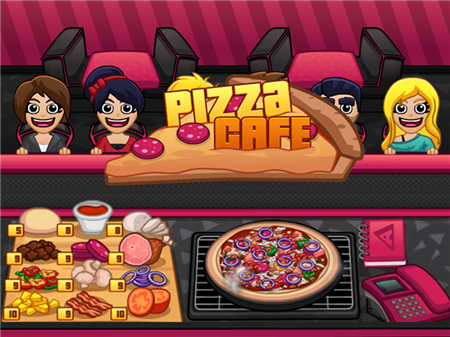 Have you ever thought about how complicated the work of a restaurateur can be, who needs to serve a large number of visitors at the same time? Even if not, now it's definitely interesting to you. Pizza Cafe invites you to try by your example to find out how heavy the share of the cook is for excellent pizza and what difficulties you need to go through in order to satisfy a large number of pizzeria visitors.
At your disposal is a modern kitchen, which is adapted for the preparation of a new generation of author pizzas. Visitors who make orders for a specific composition of pizza constantly visit your place. Your task is to fulfill orders with maximum accuracy and add only those ingredients that the customer ordered. Any deviation from the original order will increase the rating of your dish, which can lead to both poor ratings and low traffic.
Each client is ready to wait for their favorite pizza for a certain amount of time. However, do not make people wait too long. Delay also lowers the rating of your institution, which affects both the popularity of the restaurant and the amount of money earned. And how much you earn on dishes is a real marker of success, which is noted in the final table of the account.
It is important to remember the order in which the ingredients are added. If you are a little mistaken, then at the place of fulfilled orders the client is not waiting for the ready-made pizza that he ordered, but a plate with inedible coals. If you doubt which components and in what order you need to add, then use the recipe book, which will always be at your fingertips.
Among other things, it is worth considering a limited number of different ingredients, which tend to end. So if you make a mistake a certain number of times and you fail to make a good order, some of your visitors run the risk of being left without pizza, because even after accepting the order you will not be able to fulfill it due to the lack of some components.
How to play?
Any interaction with ingredients, kitchen utensils, or a recipe book is done via the main mouse controls. The game interface is adaptive, easy, and completely uncomplicated. Even a child can handle the kitchen, so you don't have to worry about the difficulty of making pizza.