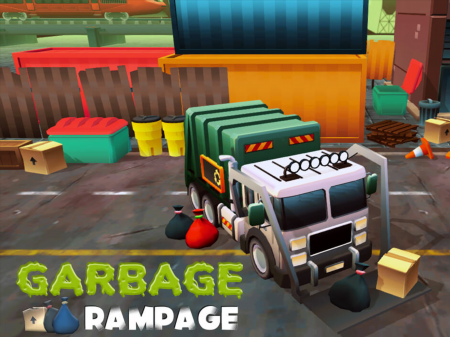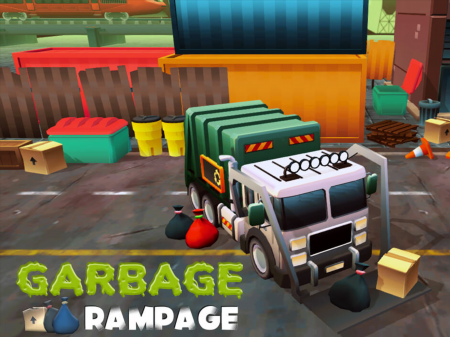 If garbage collectors were this efficient in real life, we would never have to worry about our trash piling up. This truck never stops, it just chugs the trash from the ground into the back of the truck and keeps rolling onward. Though with a truck like this, community services wouldn't be necessary anymore…
This game evidently has had some more effort put into it, both in mechanics and in more miniscule detail like the surroundings and animations.
When first you enter, you are thrown straight to the street as a garbage truck. Before you are different obstacles, trash bags and dumpsters. The goal is to collect as much trash as you can, boosting your score, while actively avoiding those obstacles. To the right of the screen is a meter displaying your fuel tank and to the left one displaying your durability. Hitting the obstacles will deplete the durability meter, while just driving will deplete, obviously, the fuel. The controls are simply a combination of left and right, with the truck always drifting to one side or the other.
On rare occasions a glowing fuel tank or wrench will appear on the road, collection these will restore to full either meter, if you miss these you are likely to run out before the next one appears. Completely damaging your truck or running out of fuel will result in a loss, allowing you to go to the garage to upgrade one of the stats for your truck. Having upgraded your beast of a truck, deploy it back to the streets and roll on, garbage awaits.