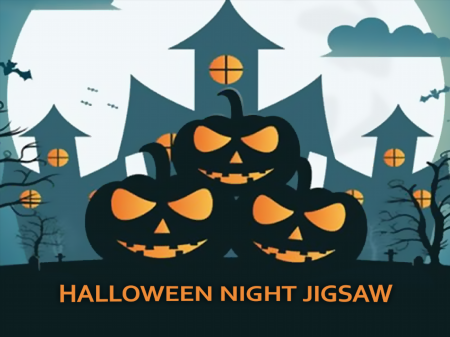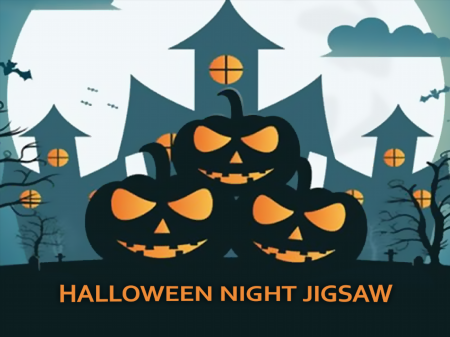 We are sure that no person on the planet has not tried to do puzzles at least once in his life. This is the same leisure that is equally useful and fun for both children and adults. Puzzles have a double effect on children as the kid develops not only visual memory and logic but also fine motor skills. However, this is more due to physical puzzles that you can hold in your hands. Unfortunately, Halloween Night Jigsaw does not give such an opportunity, but the game will give you an unforgettable pleasure from doing jigsaw puzzles that are decorated in the spirit of Halloween. What could be better than thematic puzzles on the eve of one of the most popular holidays on the planet? Are you ready to try it? Then what are we waiting for?
Halloween Night Jigsaw is no different from most related projects. The system will not complicate the gameplay with any additional interactive and related difficulties. No bombs with the wrong combination of components and no need to erase virtual glue from puzzles. You get a very old and good game that millions of people around the world adore.
The game has two main difficulty modes. The developers expected to use these difficulty levels for different age categories of players, however, it is not necessary to be a child in order to quickly and fun to assemble a puzzle that will be remembered for a long time.
In general, it is worth noting the fact of numerous studies that have confirmed - a person for a long time remembers his own assembled paintings from puzzles. This phenomenon has not yet been explained. However, a person can remember for many years both the process of assembling the picture and the details of this process. Those. we forget the faces of most people after twelve years of life, and the image of the assembled puzzle remains forever in our memory.
How to play?
Any interactions with the picture components are made via the main controls of the mouse. Choose the necessary part of the picture, click on it with the left mouse button, and drag to the desired area. Puzzles that fit together are immediately magnetized and remain in an entire block. If for some reason you wish to disconnect the puzzle from the assembled block, then you will not succeed. To do this, you will need to mix all the components and reassemble the picture. However, are there often situations when someone needs to remove a component from a ready block?