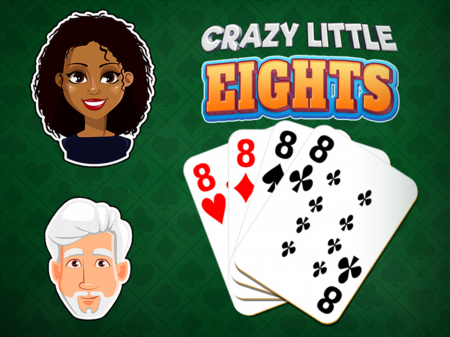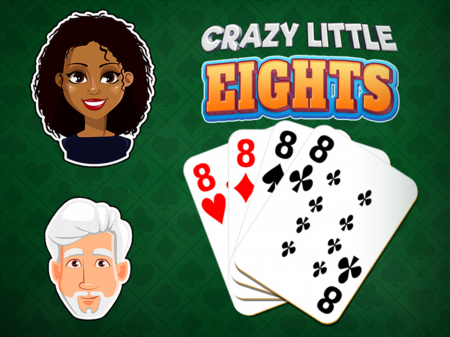 The presented project is one of the most popular in its own genre, which is eloquently indicated by a large number of new users. The project regularly receives high scores from industry critics and is a great example of how you can create simple yet incredibly addicting card games within the browser format.
The success of Crazy Little Eights lies not only in the correct implementation but also in the very popular game, which is often called Bridge. All of the above factors have become the main engine of success. If you want to take a break from school or work for a while, then you will definitely like this choice of the card game. In addition, there is no need to look for opponents, the computer copes with the function of an opponent perfectly and you will not feel the dry hand of artificial intelligence. The bridge is not a story about complex combinations. This is a fun pastime that doesn't require a sophisticated strategy.
You find yourself at a gaming table with four players. Your main task is to throw all the cards from your hand onto the table as quickly as possible, and for this, you need to gradually get rid of the cards, following a number of basic rules.
First, the moves are made in turn, and when it is your turn to lay out the cards, you will have to put on the top card either the same denomination or the same suit that lies on top. Moreover, if you have several cards of the same denomination, you can lay them all on the table. This will make the game easier for you.
Secondly, there are certain cards that force the user to take cards from the deck. Among other things, if you cannot make your move and you simply do not have a suitable card in your hand, then you will have to climb into the deck. And all these difficulties, of course, will not bring you closer to victory, but will greatly amuse the gameplay.
How to play?
The game controls are fully integrated into the game's graphical interface and can be adjusted using the mouse. Direct the cursor to a specific card and activate it by clicking the left mouse button.