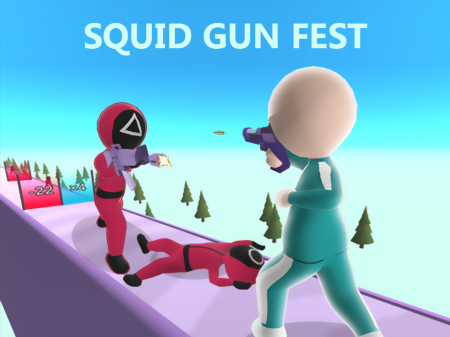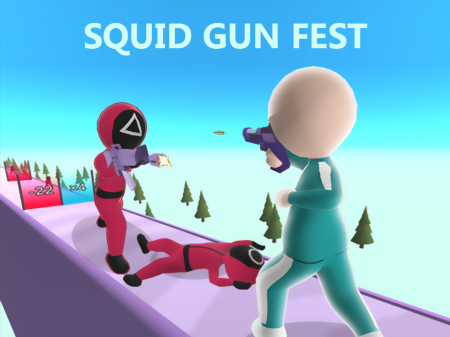 Speedrun games in our time are in very high demand among users. Over the past two decades, literally, a huge number of projects in this genre have been developed. And if quite recently such entertainment was presented only on mobile platforms, now you are able to enjoy dynamic and fun gameplay even on the browser platform.
Ready to try your hand at a new, interesting, and very exciting adventure that will captivate you for hours of gameplay? Then boldly launch the Squid Gun Fest and start running!
You start your journey on a makeshift track filled with various objects. In fact, you control little men who run along the road and shoot at everything that comes in their way. Your goal is to run as far as possible and collect more game points than ever before.
The complexity of the game lies in the fact that you will meet arches along the way, on which various numbers will be indicated. If the marked number is with a plus sign, then as many little men as it was written will join your squad. And if there is a minus sign next to the number, then you will lose the same number of people in the squad. Arcs with a question mark lead to unpredictable results, they can both take people away and increase their number. The game ends when your squad has no units left.
How to play?
The game is fully controlled by the mouse. Shots and movements are performed automatically. All you need is to indicate the direction of movement with the cursor and click on the left mouse button to change the movement.