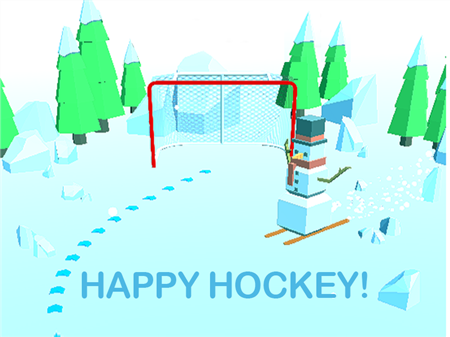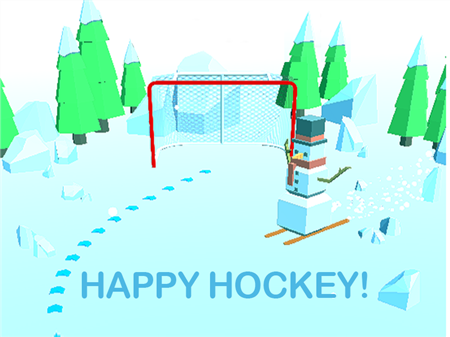 Even if you do not like hockey and have never watched the biggest competitions in this discipline, you will still like Happy Hockey, which is characterized by fascinating gameplay and features of the difficult tasks that need to be solved to complete the level. The project received a huge amount of positive feedback and, more remarkable, it was very warmly received by all age categories of gamers around the world.
The main task of the game is to freely score the puck into the goal. You control a hockey player who masterfully owns a stick and can score sports equipment from anywhere and anywhere. You only need to identify the trajectory of the impact and calculate everything so that the puck hits the goal. At the same time, it is important to avoid the numerous obstacles that will occur on your way to the gate.
Among the obstacles can be either single static objects that are easy to get around, or a group of skaters, uncontrollably and randomly skating around the rink. We remind you that you need to do everything so that the puck hits the goal and does not catch any obstacle. If you fall into one of the obstructing objects, then you lose and you have to start the level all over again. Happy Hockey does not provide a system of errors that allow you to get somewhere in the wrong place several times.
All levels are divided into several stages. In order to move from one level to another, you need to successfully and accurately go through all the stages of this level. To do this, carefully calculate each hit and make no mistakes. It is worth remembering about a small feature of the game mechanics. Your hockey player hits the puck with a slight delay. This can be a decisive factor if you plan to strike past dynamic objects that move randomly on the map. Consider this feature and you will easily jump from one level to another.
How to play?
Any interactions with the hockey stick are done via the main mouse controls. Move the cursor to one of the sides, thereby forming an arc of impact and hold down the left mouse button in order to shoot.